August 31, 2009
More Than Half of Arizona Fall League from Division I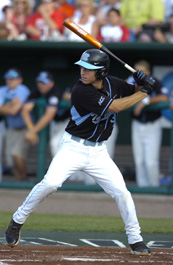 The initial rosters have been released for the 2009 Arizona Fall League.
Of the 175 participants on the AFL rosters, more than 50% are former Division I players (89). There are 62 schools represented. Arizona State and San Diego State are tied for the most players with four. There are four schools with three players: Clemson, Ole Miss, Rice and UC Irvine.
Each of the top two picks from the 2009 MLB Draft is slated to play in the AFL. Stephen Strasburg of San Diego State was the top overall selection of the Washington Nationals, and Dustin Ackley (pictured right) of North Carolina was the second overall pick of the Seattle Mariners. Both signed on the deadline day of August 17.
Play begins in the Arizona Fall League on October 13.
Click here for AFL Players by School
(photo courtesy of UNC Media Relations Office)