Zach Miller is a sophomore second baseman at Ole Miss. He was a freshman All-American after hitting .368 with four homers, 30 runs and 31 RBI in his rookie season with the Rebels. A native of Germantown, Tenn., Miller appeared in 45 games a season ago with 39 starts. He was named to the NCAA Oxford Regional All-Region Team at second base after hitting .360 with a homer, six runs and five RBI.
February 29, 2008
A Great Start to the Season

This week has been great!

Lance Lynn, Cody Satterwhite and Nathan Baker all threw well this weekend and gave us an opportunity to win. The bats were hot this weekend - and this week as well. As a team, we have scored 74 runs in five games, which is almost 15 runs a game.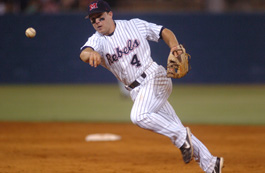 I think we are being very aggressive at the plate, which has paid off. Coach Bianco is proud of us, but we still have to compete and work on all the little things and smooth everything out. He also told us we have to keep working at getting better each day.

Coach also told us that he has never played so many people in the games that we have played so far. The reason is we have so many people who can play so many positions. Depth is the key word for this team because we definitely have it at each position.

The pitchers have done an excellent job in throwing strikes and competing. There have been a lot of pitchers who have thrown, and that is good for our team as we work our way deeper into the season, especially with more games each week because of the new schedule.

The pitching staff was unbelievable on Friday, striking out 21 batters in the first game. Lance set the tone early with eight straight strikeouts to start the game. And that was against one of the teams picked to finish near the top of the Big 10. Lance's efforts paid off with the win for us, and he was picked as National Pitcher of the Week.

The more playing time each person gets, the better the team will be as a whole. We just need to stick to the basics and perform the way we are capable of, and we will be alright.

Zach Miller