Ty Pryor is a junior pitcher at North Florida. He was 5-4 as a freshman at USF in 2005. Pryor was 1-1 as a sophomore at Tennessee in 2006 with 52 strikeouts in 38 innings. He sat out last season and served as a radio color analyst for UNF home games. Pryor was taken by the Indians in the 26th round of the 2006 draft and by the Angels in the 28th round of the 2007 draft. His brother, Tucker, is also an Osprey.
March 10, 2008
Full Weeks with Five Games and Mid-Terms
The season is hitting stride right now, and the games are starting to pile up.
Five games a week would normally be heaven for me, but when you add in class and mid-terms, it makes it more like the opposite, which is the reason for the lack of a blog last week.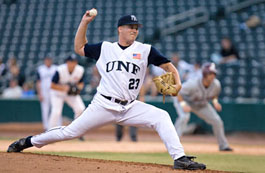 As a senior (class-wise), the mid-terms take on a whole new level of desperation, and they take a lot more time to prepare for. However, writing about them is just as bad as studying for them, so I'll move on to the past couple weeks of baseball.
Personally, I had a roller coaster of sorts the past few weeks. In our conference opener, I pitched one of the best games of my college career, going six, allowing one run on three hits and getting the win against a solid Florida Gulf Coast squad.
However, a week later against Lipscomb, I had arguably the worst, and I'd rather not rehash it. If you're really interested in the results, you can check the box score because I haven't looked at it yet. It really did a number on the ERA.
But this is a team game, and overall, it was a good couple of weeks for the team. We went 5-3 and have won four out of our last five as well as our first home conference series. It's always nice to take a series for the home crowd there to support you.
Being a new Division I school, we are on probation and can't play in the postseason, so competing for a regular-season conference crown is our main goal.
I have been really impressed with the way our team has been hitting lately as well. Going into the season, the general consensus was that offense would be our weakest area, but the hitters have taken it upon themselves to dispel that early notion and have come out swinging. We're averaging 10 runs per game at home and hitting .312 overall.
All in all, the season so far has been a microcosm of what I believe we'll go through the rest of the year - serious highs and even more depressing lows. But in the end, the low parts make you strive to achieve in spite, and you learn to not get too excited after a win because this game will knock you pretty far down.