Ty Pryor is a junior pitcher at North Florida. He was 5-4 as a freshman at USF in 2005. Pryor was 1-1 as a sophomore at Tennessee in 2006 with 52 strikeouts in 38 innings. He sat out last season and served as a radio color analyst for UNF home games. Pryor was taken by the Indians in the 26th round of the 2006 draft and by the Angels in the 28th round of the 2007 draft. His brother, Tucker, is also an Osprey.

February 26, 2008


A Monumental Weekend

Baseball is a game of depressing lows and dizzying highs.


This weekend, my team, the Ospreys of North Florida, got maybe the biggest series win in the program's history. We beat No. 23 Mississippi State two out of three games for our first-ever series win against a Top 25 Division I team.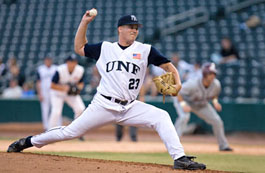 However, it wasn't all sunshine and smiles this weekend.

We lost the opener before taking the next two, and the Big Dog (head coach Dusty Rhodes) wasn't happy. It also just happens that I started the first game and didn't do as well as I would have hoped.

It was a long night for us. I think it all boiled down to Mississippi State being better at handling the extraneous factors that occur on Opening Day. In my opinion, however, I think the loss may have brought us closer together as a team because the way we responded Saturday was impressive. We scored 13 unanswered runs to finish the game after trailing by five in the fifth. Everyone hit - from freshmen to fifth-year seniors - and the win forced a rubber match on Sunday.

Sunday, we jumped out ahead early and held on through some close calls with good defense and pitching to secure the win.

It was also a great weekend because we set new attendance records for our school, and we honored our soldiers on Sunday - Military Day - with a win in our camouflage jerseys.

I do want to add that Mississippi State may have been the classiest program I have ever faced in collegiate baseball. Their players were well coached. They hustled, were hard-nosed and were professional. It was a true testament to Coach Ron Polk. Their fans were great, knowledgeable and enthusiastic. If there is a program for up-and-coming teams to emulate, it's Mississippi State. I'll be pulling for them throughout the remainder of the season.

In the end though, we made the tough plays and clutch hits this weekend and came through with the series win. The only negative I can think of is that no series will match the importance of this one. The trick will be to convince ourselves to play each team the exact same way we approached MSU those last two games.