Logan Gelbrich is a senior catcher at San Diego. He played in 60 games a season ago with 56 starts and saw action as designated hitter and in left field as well as behind the plate. A native of Los Angeles, Gelbrich was named first team all-West Coast Conference in 2007 after hitting .316 with 67 hits, including 16 doubles, and 38 RBI. Gelbrich handles one of the top pitching staffs in the nation.
March 21, 2008
Baseball, Beaches and Ballads
Aloha (Hello)!

At least once a day around practice and games, Coach Hill can be heard shouting, "Another Day in Paradise!" to anyone within an ear's reach. And if you've ever been to our campus, you'd probably agree. Not to mention, San Diego is the sunniest city in America. So when I heard Coach yelling his coined phrase, I was caught off guard because we were on the road. But since I am writing from Hawaii, I was quite understanding.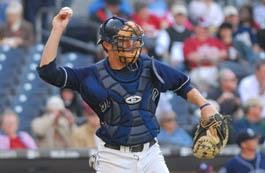 Summing up the six-day trip is difficult, but I will do my best. The trip included a perfect 5-0 record with four games over Hawaii-Hilo and a final victory over UH. Notably, Kyle Blair broke a long-time school record in his start, striking out 16 hitters through eight innings. We also learned that Vic Sanchez hits balls really far, and James Meador can't get out. And for anyone who is curious, I finally got a couple hits Tuesday night, so I won't be going 0 for March - Ha ha!

For seniors Matt Couch, Kevin Hansen, Jose Valerio, Luke Roniger and I, we came full circle upon arriving at Uncle Billy's Hotel in Hilo as we made the same trip our freshmen year. For us, that meant immediately making the walk to the famed, Ken's House of Pancakes. My freshman year, we ate at least two meals a day there for five straight days and loved every second of it. I joke that if possible, I'd pay $20 to have their boysenberry shake shipped out to California!

An interesting moment of the trip was trying to record three outs to finish the fifth inning in our final contest against Hawaii-Hilo amidst two rain delays and a lightning delay. Many college players through their seasons at school and in summer ball have all seen some fun ways to pass the time during a rain delay but the Toreros played a new game this trip.

It started when Coach Valenzuela came in the locker room and said, "You guys want a game? I'll give you a game. Pitchers over here and hitters over here." So with each group in their respective halves of the room, we were set to play what we intelligently dubbed, "Rain Game."

The game starts with a third party (the assistant coaches in this case), coming up with a word (our first word was "rainbow") and one team has 30 seconds to come up with a line from a song with the word in it and sing it. Then, the next team tries to match them back and forth until a team is stumped, thus awarding the other team a point. The game ended abruptly with Coach Hill notifying us of a break in the rain, so we ran out of the locker room to the field elated from the most-fun 20 minutes our team has had together off the field.

Once we were out there, some of us realized that fans, opposing players and the umpiring crew probably heard our screaming renditions of our songs and the ensuing laughter.

Long story short, we finished the game in time to make our flight to Honolulu. But all it took was a delay in our flight due to the rain to continue our intense game of "Rain Game" to start up in the airport terminal. With civilian on-lookers, coaches recording video of the performances on their cell phones and cheers from airport personnel the position players continued their dominance over the pitchers, ending the game with a score of 7-2.

Kevin Hansen, "Sik-Vic" Sanchez and I may be "Rain Game" Hall of Famers if we decide not to take over the billboard charts. The no-holds-barred competition included quality vocals that at times turned into dancing and embarrassing amount of passion and effort from the hitters in our performance of songs from Mariah Carey's "You'll Always Be My Baby" to the Barney theme song.

After our flight touched down, we unloaded our vans in front of our hotel in downtown Honolulu in the middle of the St. Patrick's Day nightlife debauchery. The next day, many players ventured around town and Waikiki Beach before our night game at UH as more of a sneak peek at our fast-approaching off day on the island.

I think it takes a jam-packed schedule that has us constantly in a bunker with academic responsibilities, baseball practice/games, travel and not to mention necessities such as eating, doing laundry or God forbid, some sleep to really appreciate an off day in Honolulu. We really soaked it in with some players taking on surfing, snorkeling, sightseeing, having great meals with family and/or other teammates, etc.

Most of us will be cautious of our sunburns when throwing our DeMarini backpacks over our shoulder to head to the airport today, but every good trip has to come to an end, right?

Aloha (Bye)!

Logan Gelbrich
(action photo by Brock Scott)