Jerrod Farley is a junior outfielder at Norfolk State. In 2007, he led the Spartans with 49 games, 48 games started, 13 stolen bases and 15 stolen base attempts. A native of Chester, Va., Farley tied for second on the team with four home runs. He batted .264 in MEAC play, starting all 17 conference games for NSU. Farley homered in the MEAC tourney opener against Florida A&M.
March 21, 2008

Bring on Conference Play
It was fun having all the guys that live in the dorms come over and stay with the apartment guys for a week during spring break. It was a chance to bond and get to know the guys that do not come out of their rooms that often. It got real competitive though when we got into playing MLB The Show 08. This is what we like to do when we are not on the field.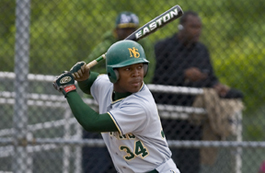 Coming off of spring break it is time to get even more focused with school work and on the field. With conference play right around the corner we cannot afford any costly mistakes. Even though we have a young group of guys I think that we can still compete with the best of the best. It is time for the level of play to increase another notch. Guys have been working hard at practice to get their games sharper for conference play. We cannot put pressure on ourselves we just have to go out and do what we know we can do. There is really nothing much to say because we have the tools and team chemistry to do big things.
VMI this Wednesday is a good test to get us ready for one of our conference rivals North Carolina A&T this weekend. We just have to come out and DO WORK.
Jerrod Farley