Jerrod Farley is a junior outfielder at Norfolk State. In 2007, he led the Spartans with 49 games, 48 games started, 13 stolen bases and 15 stolen base attempts. A native of Chester, Va., Farley tied for second on the team with four home runs. He batted .264 in MEAC play, starting all 17 conference games for NSU. Farley homered in the MEAC tourney opener against Florida A&M.
March 7, 2008
Getting the Season Started
Our coaches have done well to this point getting us ready for this journey. Now it's up to us to go out and get the job done. The pieces to the puzzle are coming together.

We as a team are looking good and playing well on the field. Even though our record is 3-3 right now, we have been competitive to this point.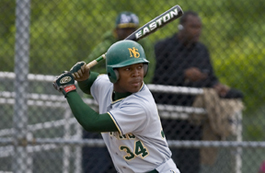 The first weekend in Savannah was very fun for us as we beat Chicago State twice to start the season. Those two games were enjoyable to watch, to see how guys were enthused and ready to play. We as a team hit the ball very well, and our pitching was dominant.

I think this past weekend was our first big test against Lafayette. A good well-rounded opponent. We swung the bats well, and our pitchers battled and gave us a great effort as we tried to get three wins.

Coming up with one win out of three games was not what we wanted, though. Had it not been for some costly mistakes, we could have taken three wins. Even with that tough weekend, it is good to see how our team is coming together. Our lineup from top to bottom is full of tough outs. With the pitching staff that we have, you come out to every game with a great chance of winning.

I think we will be fine as a team, if we just learn from the mistakes we make and try hard not to let them happen again. With Longwood University and North Carolina Central this week, we just have to continue our team motto: DO WORK AND BREAK RECORDS.
Jerrod Farley