March 28, 2008
Nine Innings with Conor Gillaspie
By Patrick Hyde
CollegeBaseballInsider.com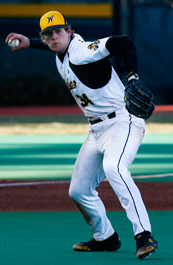 Wichita State junior third baseman Conor Gillaspie started the season with a lot of hype. He has made first team All-Missouri Valley Conference in each of his first two seasons, was named the Cape Cod League Most Valuable Player last summer, and was named to several preseason All-America teams. Gillaspie responded with aplomb. He leads the Shockers in batting with a .467 average, in runs (23), triples (5), total bases, on-base percentage and slugging. And he can play the hot corner too (.959 fielding percentage).
Gillaspie took the time to sit down with CollegeBaseballInsider.com and answer questions about his success, what it's like playing for legendary coach Gene Stephenson, and how an Omaha boy ended up playing in Wichita.
First Inning -- You came in as a freshman and contributed right away and were named a Freshman All-American. You built on that success and had a good year last year and are off to a hot start this year. What has been the key to your consistency?
Being more confident and focusing more on the process and the goals instead of just on the results.
Second Inning -- You were named MVP of the Cape Cod League last summer. What does that do for your confidence?
I had confidence before that. It was just a matter of doing it on a daily basis. I enjoyed my summer in the Cape but I'm completely focused on this season now.
Third Inning -- What have Coach Stephenson and his staff helped you with the most during your time at Wichita State?
They've helped me because there is always someone who wants to work with you. At some programs you don't get that kind of attention. [Coach Stephenson and his staff] will talk to you on and off the field and are always there for you.
Fourth Inning -- You're an Omaha boy, how did Wichita State snare you from Creighton, Nebraska and other schools. Talk about the recruiting process?
No one else recruited me heavily. Creighton recruited me a little bit and Nebraska didn't at all. Wichita State just recruited me the hardest.
Fifth Inning -- The Shockers haven't made the College World Series in a while. As you enter Missouri Valley play, what are the keys to the team's success in reaching the postseason and beyond?
Maintaining good team chemistry. We have that right now more than we did last year and that will carry us further this year.
Sixth Inning -- The Valley is pretty balanced conference. What team(s) is the most difficult to play?
All of them are difficult to play because we always have a target on our back and every team plays their best against us and wants to beat us.
Seventh Inning -- What is your favorite road stadium?
Rosenblatt Stadium
Eighth Inning -- Is there any one pitcher who you have struggled against? Why?
There isn't one pitcher on an opposing team that comes to mind, but I have always struggled against Rob Musgrave in practice. He's a lefty who is really good at mixing things up and can throw any of his pitches on any count.
Ninth Inning -- What did you learn from older guys like Damon and Derek? Although you've always been a big offensive threat, has it changed now that you're looked to lead even more?
I learned how to run the bases and play the game the right way from the older guys. No it hasn't changed. I try to go about things the same way.
Extra Inning -- Growing up in Omaha did you ever attend the College World Series? If so, do you remember any game in particular?
I attended maybe one game. I usually just watched on television. I liked watching the games on TV more than going in person. No single game stands out to me. The whole event is just great to watch and hopefully we will be playing there this year.