March 19, 2008
Rankings are from CBI Composite Poll
click here for story on Yankees' visit to Blacksburg
Around the Bases
Top-ranked Arizona State edges No. 2 Arizona
Florida stops No. 4 Florida State; Central Arkansas surprises No. 12 Ole Miss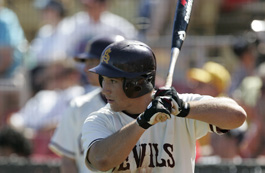 In Tempe, Ariz., Ike Davis had a two-run double in the first and pitched a scoreless ninth to notch the save as top-ranked Arizona State edged No. 2 Arizona 6-5 Tuesday evening in front of a sellout crowd of 4,235 at Winkles Field-Packard Stadium at Brock Ballpark. The Sun Devils (18-0) scored three in the first to take the early lead. The Wildcats (12-3) scored a pair in the second before Brett Wallace (right) had a two-run single in the bottom of the frame to give ASU a 5-2 advantage. UA tied it in the fourth on a RBI single by Mike Weldon and a two-run double by Dwight Childs. Marcel Champagnie's sacrifice fly in the bottom of the fourth snapped the tie and completed the scoring.
Florida 6, No. 4 Florida State 1
In Gainesville, Fla., Stephen Locke (2-0) pitched 5.1 scoreless innings as Florida defeated Florida State in front of a McKethan Stadium-record crowd of 5,719. Kyle Mullaney took the mound with the bases loaded in the eighth and got the final four outs for his second save and the seventh straight win for the Gators (15-3). Dustin Bamberg homered in the second to give Florida the lead for good. Dennis Guinn had an RBI double in the eighth for the Seminoles (16-2).
Central Arkansas 4, No. 12 Ole Miss 3
In Oxford, Miss., Chris Houk's RBI double plated the game-winner in the top of the 10th as Central Arkansas knocked off Ole Miss. Houk finished with two hits and two RBI. Matt Humphrey fanned four over the final 2.2 innings for the Bears (8-11). Fuller Smith went 4 for 4 for the Rebels (13-6).
No. 3 North Carolina 7, Princeton 0
In Cary, N.C., Patrick Johnson and three relievers combined on a two-hit shutout as North Carolina blanked Princeton. Johnson (2-0) allowed one hit in five innings with seven strikeouts. Garrett Gore and Ben Bunting each had two RBI for the Tar Heels (15-3). The Tigers fell to 6-5.
No. 5 Miami (Fla.) 20, Cornell 9
In Coral Gables, Fla., Mark Sobelewski tied a school record by going 6 for 6 and he drove in five as Miami outscored Cornell at Mark Light Field. Sobelewski matched the record of six hits held by Mike Fiore (5/12/85) and Kevin Howard (5/11/02). Yonder Alonso and Ryan Jackson each had two hits and three RBI for the Hurricanes (14-2). Nathan Ford had three hits and three RBI for the Big Red (4-6).
No. 6 Long Beach State 6, San Diego State 2
In Long Beach, Calif., Jason Corder had three RBI to lead Long Beach State past San Diego State. Corder's two-run homer capped a three-run fifth as the Dirtbags (13-3) pushed their lead to 6-2. The Aztecs evened their record at 9-9.
No. 9 Missouri 13, South Dakota State 1
In Columbia, Mo., Jacob Priday homered and knocked in three as Missouri manhandled South Dakota State. Greg Folgia fanned seven in five shutout innings for the Tigers (14-2). Dan Pietroburgo had four hits and two runs for Missouri. Stephen Turner drove in the lone run for the Jackrabbits (5-10) in the eighth.
No. 11 South Carolina 13, College of Charleston 1
In Charleston, S.C., James Darnell tied a school record with three home runs as South Carolina clobbered College of Charleston in front of 2,011 fans at Patriots Point. Kyle Enders and Reese Havens also went deep for the Gamecocks (12-5). Jeremie Tice scored for the Cougars (13-7).
No. 13 Texas 9, Texas State 6
In Austin, Texas, Brandon Belt drove in five and recorded his first career save as Texas outscored Texas State at Disch-Falk Field. Belt went 3 for 4 and pitched two scoreless innings with one walk, one hit batsman and one strikeout. Belt had a three-run homer in the first to give the Longhorns (14-5) the lead for good. His two-run single in the fifth capped the scoring for Texas. Jonathan Farrow had a three-run homer in the sixth for the Bobcats (10-6).
Sacramento State 12, No. 17 California 6
In Berkeley, Calif., David Flores had four hits and Tim Wheeler knocked in four as Sacramento State doubled up California at Evans Diamond. The Hornets (5-11) scored two in the first and six in the second for an 8-0 lead. Flores ignited the rally in the second with a two-run double, setting a school record for career doubles with 39. Wheeler's three-run double capped the inning. David Cooper had a three-run homer in the seventh for the Golden Bears (13-3-1).
No. 20 Virginia 3-6, Stony Brook 0-4
In Charlottesville, Virginia used a five-run eighth in the nightcap to complete a doubleheader sweep of Stony Brook at Davenport Field. It was the 14th straight home win for the Cavaliers (16-4). Michael Schwimer recorded saves in each game for Virginia to raise his season total to five. Phil Gosselin had two hits, two runs and two RBI in the nightcap for Virginia. In the opener, three hurlers combined on a two-hit shutout as the Cavaliers blanked the Seawolves (4-7). Jeff Lorick (2-0) worked 4.2 innings with two hits, three walks and four strikeouts. Robert Morey retired the four batters he faced, and Schwimer needed just five pitches in the seventh to register the save.