March 16, 2008
CBI Live
Gamecocks Batter Commodores
By Jimmy Jones
Special to CollegeBaseballInsider.com

NASHVILLE - Strong storms wreaked havoc at Hawkins Field and caused a two and a half hour rain delay, but did nothing to dampen the South Carolina Gamecocks' offensive firepower as they evened their SEC series with an impressive 16-7 win featuring an 18-hit performance against three different Vanderbilt Commodore pitchers on Saturday afternoon.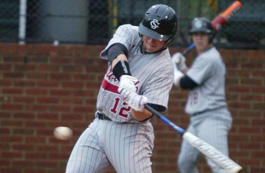 The visitors jumped out to a 5-0 lead, taking advantage of shortstop Ryan Flaherty's error as Justin Smoak (right, photo by Jimmy Jones), Harley Lail and Andrew Crisp each had RBI singles and Phil Disher capped off the inning with a two-run single on a 2-2 count.

"They hit the ball hard all day and set the tone early," Vanderbilt head coach Tim Corbin said. "When they get on a roll, they are tough to stop."

The Gamecocks (1-1, 11-4) tacked on another five runs in the third with James Darnell hitting an RBI single for the first run in the inning. Andrew Crisp added a two-run double that knocked VU starter Nick Christiani out of the game.

Disher welcomed reliever Steven Schwartz with a two-run homer on the first pitch to make it 10-1, and the rout was on.

Darnell struck again in a three-run fourth with a two-run homer, and the Gamecocks added three more in the fifth with Kyle Enders pitching in with a two-run double in the fifth to extend the lead to 16-1.

The Commodores (1-1, 11-4) tallied six more runs over the next four innings, but it was too little, too late for the defending SEC champions.

"You got to put this one behind you," Corbin said. "If you think about this loss tomorrow you will get beat the same way. Everything changes tomorrow; you see it in this league all the time, things can change quickly."

Christiani (1-1) gave up nine runs (five earned) on nine hits in 2.1 innings to take the loss.

Drew Hayes pitched two shutout innings of relief with a strikeout. Alex Feinberg led the Commodores with three hits while sophomore Andrew Giobbi continued his hot hitting with two hits and two RBI.

Every Gamecock starter had at least one hit in the game. Darnell and All-American Justin Smoak had three hits each while Enders (three RBI), Darnell (three), Andrew Crisp (three) and Disher (four) combined for 13 RBI.

Vanderbilt and South Carolina will play the final game of the series Sunday afternoon at 1 p.m.

Vanderbilt will send freshman Caleb Cotham (2-0, 1.96 ERA) to the mound, while Blake Cooper (2-1, 1.80 ERA) will start for the Gamecocks.