Feb. 25, 2008
Rankings are from CBI Composite Poll
No. 6 Rice 3, No. 17 Long Beach State 1
Around the Bases
Fedroff's homer caps four-run ninth for No. 3 UNC at FAU
Cleveland State upsets No. 25 Louisville; No. 2 ASU blanks No. 10 OSU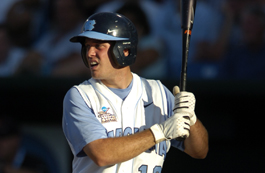 In Boca Raton, Fla., Tim Fedroff's two-run homer capped a four-run ninth-inning rally as third-ranked North Carolina got by Florida Atlantic 8-7 to complete the weekend sweep. Tim Federowicz (2 for 2, 3 BB) led off the inning with a solo shot. After a Ryan Graepel double and a Mark Fleury RBI single, Fedroff (pictured right) went deep to give the Tar Heels (3-0) an 8-7 lead. Dustin Ackley was 3 for 5 with a three-run bomb in the fourth. For the Owls (0-3), Nick Arata was 2 for 2, including a solo home run, and walked twice. Mike McKenna was 2 for 5 with a pair of RBI.
Cleveland State 8, No. 25 Louisville 5
In Louisville, Ky., Brian Long pitched the Vikings to their first victory of the season with eight strong innings, allowing nine hits and four runs, two earned, while striking out eight Cardinals (2-1). Leadoff man Brad Buell led Cleveland State (1-2) with four hits and two runs. His double began a five-run fourth inning against Cardinal starter B.J. Rosenberg. Josh Geric (1 for 3, 2 RBI) had a key two-run single in the inning. Kyle Bischof went 2 for 4 with a pair of RBI.
No. 2 Arizona State 11, No. 10 Oregon State 0
In Tempe, Ariz., Brett Wallace's home run highlighted a seven-run first inning as Arizona State blanked Oregon State to complete a weekend sweep at the DeMarini Invitational. Wallace went deep on the first pitch he saw, his third consecutive at bat with a home run. Marcel Champagnie had a bases-loaded double to drive in three in the seven-run first for the Sun Devils (3-0). Four hurlers combined on the shutout. Seth Blair allowed three hits in four innings. Jason Franzblau and Tommy Rafferty each tossed two scoreless innings and Jason Jarvis worked a scoreless ninth to preserve the shutout against the Beavers (1-2).
No. 1 Arizona 9, Georgia 8
In Athens, Ga., C.J. Ziegler had a three-run double in a five-run seventh, and Arizona scored four more times in the eighth in a rubber-game win over Georgia. The Bulldogs (1-2) scored four times in the ninth - Ryan Peisel had a solo homer, Rich Polythress (4 for 4) ripped a two-run shot and Joey Lewis had a RBI single - before Jason Stoffel picked up his second save of the weekend. Diallo Pon added three RBI and two runs off the bench for the Wildcats (2-1).

No. 4 South Carolina 7, East Carolina 6
In Columbia, S.C., a walk-off two-run single by Kyle Enders in the bottom of the 11th gave the Gamecocks the rubber match of their series with East Carolina. The Pirates had taken the lead in the top of 11th when Stephen Batts singled in a run. Whit Merrifield (2 for 5) and Justin Smoak (1 for 3, 3 BB) each had a pair of RBI for South Carolina (2-1). Drew Scheiber was 3 for 4, with three RBI for ECU (1-2).<![if !supportLineBreakNewLine]>
<![endif]>
No. 5 Ole Miss 15, Minnesota 4
In Oxford, Miss., Cody Overbeck hit his third homer of the weekend and drove in three, and Sean Stuyverson went 3 for 5 with a homer, three runs and two RBI as Ole Miss' potent offense stayed hot in completing a sweep of Minnesota. Zach Miller went 3 for 5 with three runs and two RBI for the Rebels (3-0), who scored 45 runs in the three-game set. Joe Maciej had three RBI for the Golden Gophers (0-3).

No. 7 Vanderbilt 4, Miami (Ohio) 3
In Tempe, Ariz., David Macias's two-run single capped a three-run rally in the bottom of the ninth as Vanderbilt rallied past Miami at the DeMarini Invitational at Packard Stadium. Macias went 3 for 4 with three RBI. Alex Feinberg was 2 for 3 for the Commodores (2-1) with a run and a walk. Matt Erwood had a strong outing for the Red Hawks (0-3), scattering six hits and one earned run over six innings, walking one and striking out five. Chris Nadeau and Blake Chaffee led the offense for Miami, with Nadeau going 3 for 3 with a walk and a run and Chaffee going 2 for 3 with a run.
No. 9 Texas 10, VCU 2
In Austin, Texas, Kenn Kasparek earned a win in his first appearance since June 2006, and Kyle Russell went 2 for 4 with two runs and three RBI as Texas swept VCU. Kasparek allowed two hits and one unearned run and struck out five in five innings in his first start after missing 2007 with an elbow injury.
No. 12 Miami 10, Cincinnati 0
In Coral Gables, Fla., Chris Hernandez struck out eight in six scoreless innings, and Jemile Weeks homered and drove in three as Miami completed a sweep of Cincinnati. Adam Severino also homered, going 2 for 4 with two runs and two RBI, and Mark Sobolewski contributed two hits, a run and a RBI for the Hurricanes (3-0).

No. 13 Missouri 9, Stetson 5
In DeLand, Fla., Kyle Gibson struck out 10 in six solid innings, and Kurt Calvert and Ryan Lollis each contributed two RBI as Missouri picked up its third win at the Stetson Invitational. The win marked the Tigers' 2,000th win in school history - making Missouri the 35th NCAA program to reach that plateau. Josh Clendenin went 2 for 4 with a homer and four RBI for the Hatters.

No. 14 Michigan 18, Villanova 9
In Port St. Lucie, Fla., Zach Putnam went 3 for 4 with two doubles, two runs and four RBI to lead Michigan past Villanova. Adam Abraham had two hits and drove in four for the Wolverines (3-0). Matt McFolling homered and had three RBI for the Wildcats (0-3). Dan Terpak also went deep for Villanova.
No. 16 Florida State 15, Duquesne 3
In Tallahassee, Fla., freshman Mike McGee took a no-hitter into the sixth inning and went 3 for 4 with three RBI and a run as Florida State completed a weekend sweep. The Seminoles (3-0) tallied 44 runs and 44 hits - half of which went for extra bases for an .865 slugging percentage - over the weekend against Duquesne (0-3). Ohmed Danesh and Jason Stidham each contributed three RBI in the finale.
No. 18 Clemson 10, Mercer 3
In Clemson, S.C., Wilson Boyd had two bombs, giving him three on the season, and drove in four during a nine-run third inning as Clemson (3-0) completed a sweep of Mercer (0-3). Freshman John Nester added a solo shot in the seventh, his first career home run. Tiger starter Graham Stoneburner worked five innings, allowing three hits and striking out three to earn the victory.

No. 19 Cal State Fullerton 7, TCU 4
In Fort Worth, Texas, Joel Weeks squeezed home Shevis Shima, who laced a pinch-hit double in the top of the eighth to break a 4-4 tie, and Cal State Fullerton went on to take the rubber game of its series with TCU. Josh Fellhauer had three hits, two runs and a RBI, and Gary Brown added two hits and two RBI for the Titans (2-1). Matt Vern had three RBI for the Horned Frogs (1-2).

No. 20 Virginia 12-6, Lehigh 1-1
In Charlottesville, Va., David Adams went 3 for 5 with two homers and five RBI in the opener as Virginia swept a doubleheader for the second time in as many days against Lehigh (0-4). The Cavaliers (4-0) cruised to a 12-1 win in Game 1 as starting pitcher Andrew Carraway threw six dominant innings, allowing only two hits and striking out eight. In the second game, Dan Grovatt was 2 for 4 with a double, two RBI and two runs. Tyler Cannon was 3 for 4 with a pair of doubles. On the mound, reliever Robert Morey threw three perfect innings to earn the victory.
No. 21 Texas A&M 5, Northern Colorado 2
In College Station, Texas, Darby Brown's RBI in the seventh gave Texas A&M the lead, and Dane Carter added a two-run homer in the eighth as the Aggies salvaged a split in their four-game set with Northern Colorado. Scott Migl tossed 6.1 solid innings, allowing five runs and two earned runs for the Aggies (2-2). Dan Kazell allowed three hits and two earned runs in six innings for Northern Colorado (2-2).

No. 22 Baylor 2, Purdue 1
In Waco, Tex., the Bears edged the Boilermakers for the third day in a row to complete the series sweep at Baylor Ballpark. Adam Hornung and Dustin Dickerson put the Bears (3-0) on the board early with back-to-back RBI singles in the first inning. Willie Kepf got the win, and Nick Cassavecchia recorded the save. Craig Fritsch and Aaron Miller each pitched one shutout inning. Kepf, Fritsch and Cassavechia combined for 11 strikeouts. Purdue (0-3) scored in the third inning on an RBI single to right by Brandon Haveman, driving in Nick Overmyer.
No. 24 Kentucky 10, South Alabama 3
No. 24 Kentucky 13, Fairfield 3
In Mobile, Ala., Collin Cowgill's three-run homer sparked a six-run seventh inning as Kentucky completed a perfect weekend at the Coca-Cola Classic. Cowgill was named the tourney's MVP after hitting .308 with five runs and five RBI. Greg Dombrowski tossed five innings, allowing just one earned run, to post the win for the Wildcats (3-0). Earlier in the day, Scott Green struck out 10 batters in five innings as Kentucky beat Fairfield. The Wildcats totaled 33 runs in wins over South Alabama, Fairfield and Xavier.
Postponed games involving ranked teams:
San Diego State @ No. 8 San Diego
Fordham @ No. 11 Wichita State
Oklahoma @ No. 15 UCLA
No. 23 UC Irvine @ Nevada