Jan. 17, 2008
St. John's is Big East preseason pick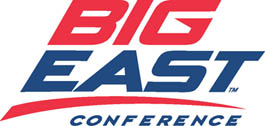 St. John's earned a share of the 2007 Big East regular-season crown and is the favorite for this season's title by the league's 12 coaches, who could not vote for their own teams, as released by the Big East Conference.

Louisville, which made its first appearance in the College World Series this past season, was in second place in the team voting and earned both preseason individual awards. Sophomore third baseman Chris Dominguez is the Preseason Player of the Year and senior Zack Pitts is the Preseason Pitcher of the Year.
The Red Storm was 41-19 overall a season ago with a 20-7 conference mark. The Cardinals finished 47-24 in 2007 and was third in the Big East with a 19-8 league record. St. John's and Louisville each received at-large bids to the NCAA Tournament a year ago.
USF (32-24, 13-14 in 2007) was voted third in the preseason poll. Rutgers (42-21, 20-7 in 2007) tied for the regular-season title a season ago and won the 2007 Big East Tournament. The Scarlet Knights are projected to finish fourth by the head coaches.
The 2008 season begins Feb. 22, with 11 of the 12 teams in action. Conference play commences on March 14, when Seton Hall travels to USF. The 2008 Big East Tournament will be held May 20-24 at Bright House Networks Field in Tampa, Fla. The championship game will be televised on ESPNU.

Preseason Poll
Team Points (1st votes) 2007 Overall 2007 Big East
1. St. John's 117 (7) 41-19 20-7
2. Louisville 113 (5) 47-24 19-8
3. USF 92 34-26 13-14
4. Rutgers 91 42-21 20-7
5. Notre Dame 80 28-28 11-15
6. Connecticut 66 34-27 10-14
7. Pittsburgh 59 27-27 15-11
8. Villanova 51 29-25 12-15
9. Cincinnati 41 28-28 10-16
10. West Virginia 39 29-22 10-16
11. Seton Hall 31 25-25 9-15
12. Georgetown 12 21-34 8-19

Preseason Player of the Year: Chris Dominguez, So., 3B, Louisville
Preseason Pitcher of the Year: Zack Pitts, Sr., RHP, Louisville

Preseason Team
Pos. Name, Class, School Key 2007 Stats (All Games Played)
LHP Scott Barnes, Jr., St. John's* 7-2, 2.93 ERA, 15 GS, 1 CG, 1ShO, 95.1 IP, 34 BB, 99 SO
RHP Zack Pitts, Sr., Louisville* 10-3, 2.52 ERA, 18 GS, 1 CG, 121.2 IP, 24 BB, 91 SO
LHP Justin Marks, So., Louisville 9-2, 2.67 ERA, 18 GS, 104.2 IP, 38 BB, 87 SO
LHP Dan Osterbrock, Jr., Cincinnati 9-1, 2.67 ERA, 14 GS, 5 CG, 1 ShO, 94.1 IP, 25 BB, 82 SO
RHP David Phelps, Jr., Notre Dame 8-5, 1.88 ERA, 15 GS, 5 CG, 1 ShO, 110.1 IP, 30 BB, 102 SO
C Derrick Alfonso, Sr., Louisville .274, 234 AB, 32 R, 64 H, 9 2B, 3 3B, 5 HR, 30 RBI, 4-6 SB
1B Tom Edwards, Jr., Rutgers .340, 238 AB, 44 R, 81 H, 10 2B, 7 HR, 48 RBI, 7-10 SB
2B Dexter Butler, Sr., USF .324, 213 AB, 33 R, 69 H, 11 2B, 1 HR, 44 RBI, 2-3 SB
SS Josh Harrison, Jr., Cincinnati .327, 220 AB, 59 R, 72 H, 17 2B, 2 3B, 9 HR, 56 RBI, 21-23 SB
3B Chris Dominguez, So., Louisville .262, 271 AB, 47 R, 71 H, 19 2B, 3 3B, 15 HR, 61 RBI, 9-12 SB
OF Tony Campana, Sr., Cincinnati .329, 237 AB, 51 R, 78 H, 5 2B, 1 3B, 1 HR, 18 RBI, 60-74 SB
OF Sean Conley, Sr., Pittsburgh .283, 205 AB, 44 R, 58 H, 6 2B, 2 3B, 2 HR, 26 RBI, 11-18 SB
OF Brian Kemp, So., St. John's .384, 230 AB, 53 R, 80 H, 10 2B, 2 3B, 1 HR, 34 RBI, 25-29 SB
DH Matt Karl, Sr., Connecticut .301, 123 AB, 17 R, 37 H, 3 2B, 4 HR, 19 RBI
* - unanimous selection