Feb. 18, 2008

Back to School
By Sean Ryan
CollegeBaseballInsider.com Co-Founder
click here for Horizon League coaches' survey results
The bus rolled into campus around 5:30 in the morning.
Drained from a four-game weekend series last year in Fargo, N.D., against North Dakota State, a Valparaiso baseball player turned to his first-year coach Tracy Woodson.
"Coach, you going to class?" the player asked. "Yeah, and you're going to be there, too," Woodson replied.
After a two-hour nap in the team room at Emory G. Bauer Field, Woodson, like many of his players, headed off for an early class.
Woodson isn't your typical college baseball coach.
For starters, he's one of a handful of Division I head coaches in the country who can sport a World Series Ring. Woodson was a member of the 1988 Los Angeles Dodgers team that beat Oakland – Pacific's Ed Sprague won two World Series rings with Toronto and Yale's John Stuper earned one with the 1982 Cardinals. (Of note Sacred Heart's Nick Giaquinto earned a Super Bowl ring as a member of the Washington Redskins.)
While many of his college baseball peers are mapping out practice or sneaking out for a round of golf this spring, Woodson will be taking Accounting 205 and a sports marketing class. It's all part of a promise he made to Valpo administrators when he was hired three seasons ago: that he would work towards the undergrad degree he walked away from to chase his major league dreams nearly 25 years ago.
And for good measure, Woodson moonlights as a college basketball ref, joining the likes of Moose Stubing and Bruce Benedict as former major league baseball players who found enjoyment calling blocks and charges.
"When you have someone with his kind of resume, we know that he knows what he's talking about," senior pitcher Patrick Bracco said. "So, as long as we do our job and listen to what he tells us, there's no reason we can't be successful.
"He sets forth a good example of what he expects of you, and we try to live up to that."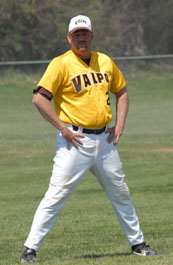 In his first year, Woodson led the Crusaders to a 22-34 record and their first Mid-Continent Conference tournament appearance since 2003. Included was one very big win over Oral Roberts – which ended the Golden Eagles' 40-game conference win streak and gave the Crusaders just their fourth win in 46 games and first ever in Tulsa, Okla., against ORU.
Woodson preached to his team early in the year that it would beat the team that has won the regular-season title in each year of the Mid-Con's existence.
<![if !supportLineBreakNewLine]>
<![endif]>
"Heck, I didn't know," joked Woodson, whose Valparaiso squad will mix it up as members of the Horizon League in 2008. "I figured out of four games, we could win one. Then I found out we were 3-42 against them. If I had known that, I wouldn't have said it."
Chances are, he still would have made the promise.
At North Carolina State, Woodson was the ACC player of the year in 1984, a junior season in which roped 25 homers (tied for school record) and set a school record with a .913 slugging percentage.
"There was no question, I was going to sign," said Woodson, who was named to the ACC's 50th Anniversary Team in 2002. "I think I had done pretty much everything I could do. I wasn't going to get any better [in college]."

The Dodgers selected him in the third round of the 1984 draft, and in 1987, just eight games into his major league career, Woodson belted a first-pitch fastball from Nolan Ryan into the seats in left at Chavez Ravine.
"The next time up, he threw one at my head," Woodson remembered. "I landed in Alan Ashby's arms. He said: 'I'd love to go dancing, but wait until after the game.'"
The next year, Woodson was a key reserve in what turned out to be a season of memories. Orel Hershiser broke Don Drysdale's scoreless-innings record. Woodson struck out on Sept. 16 to end Cincinnati lefty Tom Browning's perfect game. And the Dodgers reached the World Series against the heavily favored Oakland A's.
One magical swing by Kirk Gibson changed fate.
"I sat there; I could hear it; I watched it," said Woodson, who pinch-hit in the fifth inning of Game 1. "You could hear him taking hacks off the tee up the runway. Everything they say, it was true. He couldn't walk…he was a gamer.
"When he walked out, I have never heard a place explode louder. That rush probably gave him enough strength to get through the at-bat."
Woodson can be seen on the highlights practically mauling Gibson with a hug fit for a bear after he limped across the plate.
"I get goose bumps every time," Woodson said. "People can say what they want about Bill Mazeroski's home run. There is no bigger home run. It was off the best reliever in baseball. He couldn't walk. It won the game…it won the World Series for us."
Woodson, who knocked in the fourth run of the Dodgers' 4-3 Game 4 win, knew he wanted to coach after 215 major league games, 506 at-bats and several more seasons in the minors. He started coaching in 1997 and managed teams in A, AA and AAA – including leading the Carolina Mudcats (AA) to the Southern League Championship in 2003.
It was in 2004 when he was managing the Albuquerque Isotopes (AAA) when he and his wife had a baby. After 22 years in professional baseball, he decided to get out. Woodson and another veteran minor league manager, Mark Meleski, started Richmond Baseball Instructors, a teaching facility, in their hometown of Richmond, Va.
He also worked on his hobby – officiating college basketball games. Look close, and you may have seen him call a Michigan State/Old Dominion NCAA tourney game a few years ago. He's also called Tennessee/Florida and UCLA/Boston College. This year, he's calling about 20-25 games.
"I love doing it," he said. "I started at the bottom. I tell other people the same thing: You have to work to get whatever you're going to get anyway."
Then, an odd twist of fate: The Valparaiso job opened up. Here was Woodson, itching for a sensible opportunity, and the one that comes about is the alma mater of his wife Lisa, who was hoping to return to Indiana to be closer to her twin sister – both of whom played basketball for the Crusaders.
"This program needed a change, it needed a different attitude," Woodson said. "This is the job I wanted, and this is a place I think we can be successful."
Even if it meant going back to school.