Feb. 14, 2008
Putnam, Abraham Give Michigan Dual Threat
By Patrick Hyde
CollegeBaseballInsider.com
click here for Big 10 coaches' survey results
Multi-talented Michigan players Zach Putnam and Adam Abraham took nearly opposite paths to playing college baseball.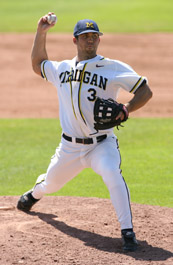 Putnam (pictured right), a junior first baseman, outfielder and pitcher, took the more normal route. He played high school and summer ball and won a plethora of awards and accolades.
Abraham, a junior third baseman and pitcher, took the road less traveled. He played only two years of high school baseball and spent his last two years of high school playing hockey for Mississauga Ice Dogs of the Ontario Hockey League. It appeared that Abraham was destined to become a defender in the NHL.
But, the NHL lockout that cancelled the 2004-05 season changed everything.
"I quit hockey because I wasn't sure about my future in hockey," he said. "But Michigan was a good chance to pursue another dream of mine and to get an education. Coach offered me a scholarship and was going to give me a chance to both pitch and hit."
Though the courses they have taken differ significantly, Putnam and Abraham give head coach Rich Maloney two of the most potent two-way players in college baseball.
"We are pretty fortunate to have them," Maloney said. "[Putnam] is a very rare player. People are considering him in the highest realm of the draft at both positions. I haven't seen a player like him in a long time.
"Adam was an outstanding hockey player. He has great hands, bat speed and strength that come from hockey."
Being a successful player in the field, on the mound and in the batter's box takes a lot of prioritizing and creative training.
"It requires a great deal of practice, but I've been doing this my whole life," said Putnam, who hit .330 with eight homers and 57 RBI and went 8-5 with a 3.87 ERA on the mound in 2007. "During practice, I try to do equal amounts of everything."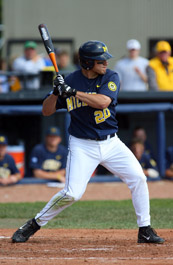 Abraham (pictured left) (.320/5/45; 5-1, 2.97 ERA, 2 saves) has a similar approach.
"I split my time as much as I can," he said. "I don't need as much bullpen work as some of the other guys because my arm rebounds pretty well."
After two years of personal and team success – Michigan lost to Vanderbilt in the NCAA Regionals in 2006 then upset the No. 1-ranked Commodores in last year's Regional when another two-way player, Alan Oaks, homered off No. 1 pick David Price; it then fell in the Super Regionals to national champion Oregon State – Putnam, Abraham and the rest of the Wolverines are aiming for Omaha this year.
"We are very talented and have experience now," Maloney said. "We hope to use those experiences in a positive way, and I certainly like our chances to win every day."
The Wolverines return several key players including utility player Nate Recknagel (.352/12/61), shortstop Jason Christian (.328/7/44), outfielder Derek VanBuskirk (.384/3/32) and pitchers Mike Wilson (7-1, 3.52) and Chris Fetter (6-3, 4.71) from last year's team. The team also is bolstered by a strong class of freshman.
Add to that a refurbished ballpark, and Michigan is looking to host NCAA tourney games on its drive to Omaha.
"If we have some success, I would hope we can host a regional," Maloney said. "Fifty-one of 56 teams to Omaha in the last eight years have hosted at some point in the tournament."