Feb. 27, 2008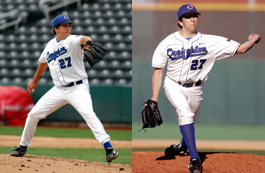 Two Pitchers in One
By Patrick Hyde
CollegeBaseballInsider.com

He was the subject of a front-page feature in The New York Times midway through his junior season. College baseball players normally don't garner that kind of attention.

Creighton pitcher Pat Venditte is not a normal college baseball player. He's two pitchers in one. A lefty and a righty. A one-of-a-kind. Ambidextrous.

And pretty darn good to boot.

Venditte finished last season with an 8-2 record, 1.88 ERA, 99 strikeouts and held opposing hitters to a .189 batting average. He started the Missouri Valley Conference Tournament championship game, which Creighton won, and was named MVP of the tournament.

The New York Yankees selected him in the 45th round of last year's draft. The lighty - or is it refty? - chose to return to Creighton for his senior season, but has proven that he is more than just a novelty.

After The New York Times piece, he became the subject of more newspaper and television features. All the attention might have made other players nervous or inconsistent. Venditte, though, maintains an insouciant demeanor toward all the hoopla.

"I try not to think about that stuff," he said. "If you do, you put the team on the back burner."

Venditte made only five appearances as a freshman in 2005 but has been the model of consistent improvement ever since. Venditte made 30 appearances as a sophomore and finished the season 4-3 with a 3.02 ERA and a team-leading 54 strikeouts.

His success is the result of hard work and, obviously, his unique skill set.

"I can't say enough about his work ethic," Creighton pitching coach Rob Smith said. "He is one of the best I've seen at this level with his work ethic and habits."

Smith said that during the off-season, Venditte came in before practice and would long-toss with one arm and then do drills with the other during practice.

During the season, Venditte said that he long-tosses five to six days a week depending on his game workload.

"Coach Smith also has us do a lot of running," Venditte said. "The conditioning and long-tossing are definitely the keys to my success."



Now following his stellar junior season, Venditte enters his final season on several preseason All-American teams and has the opportunity to solidify himself as a bona fide professional prospect.

"The novelty part is not there anymore," Missouri State coach Keith Guttin said. "He has good stuff from both sides."

When he pitches right-handed, Venditte has a fastball in the upper 80s to lower 90s. He compliments his fastball with a curveball and is working on a slider and a changeup. From the left side, Venditte predominantly throws a slider.

He pitches right-handed to right-handed batters, left-handed to left-handed batters and tries to put switch hitters on their less-effective side. His custom glove allows him to effortlessly switch hands between batters.

For batters and teams that haven't faced him before, it can be difficult.

"You have to go against him like any right-handed or left-handed pitcher," Guttin said.

Though Venditte said that he is not going to think about his future in professional baseball until after the season, those who know him think that he has a chance to become a good professional pitcher.

Yankees area scout Steve Lemke thought Venditte was good enough to draft last year after he saw him pitch at Creighton and over the summer.

"He is starting to become a prospect," Lemke said. "He always gets people out right- or left-handed. His velocity was getting between 87 and 91 right-handed, and he is very effective against left-handed batters."

Venditte's right-handed velocity is average for a major leaguer but needs to develop a secondary pitch if he wants to continue to improve, Smith said. He also said that it's going to be interesting to see how professional hitters handle his left-handed slider.

Whether Venditte pitches left- or right-handed professionally is uncertain.

"My recommendation was to let him do both," Lemke said. "At some point, he might have to right-handed because he has more physical ability right-handed."

One thing is certain - he'll do whatever it takes to succeed.

"The sky's the limit for him because of his work ethic," Smith said.