March 6, 2008
Yale's Lavarnway: Grand Marshal of Hit Parade
By Andrew Finley
CollegeBaseballInsider.com
In 2007, the best hitter in college baseball did not attend classes in California, Texas or Florida.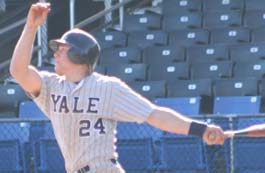 Ryan Lavarnway attends classes in New Haven, Conn., at Yale University. Last season, he led all Division I hitters with a .467 average.
Lavarnway is not just a singles hitter – he also led D-I with an .873 slugging percentage, with 32 of his 70 hits going for extra bases, including 14 home runs.
"He's got the one thing you can't teach, he's got power," Yale coach John Stuper said.
Added Dartmouth coach Robert Whalen: "He's a very dangerous hitter, the kind you try not to let beat you if you can.
Whalen also emphasized that Lavarnway possesses fantastic "plus plus" raw power. Stuper said he was the best position prospect he has coached in his 16 years at Yale.
In addition to his breakout season at the plate, Lavarnway became the Bulldogs' starting catcher in 2007, starting 30 games.
Lavarnway said he was recruited to Yale as a "hard-nosed defensive outfielder. Any offense I could provide would be gravy."
A Yale assistant noticed him at a camp. "He was diving all over the place, really aggressive," Stuper said.
Yale was the only Division I offer Lavarnway received, and since he had always planned on completing college, he was happy to sign at such an excellent academic institution. When he hit .482 during his senior season at El Camino Real High School in Woodland Hills, Calif., after growing 6 inches during his junior year, it was too late for other schools to try to snatch him away. He received some attention from professional scouts but was committed to attending college.
In 2006 Lavarnway, was the starting right fielder and delivered a solid, if unspectacular season as a freshman. He hit .281 with six home runs and 25 RBI while playing a solid right field.
"He doesn't run great, but gets good jumps and takes good routes," Stuper said. "He was a good defensive outfielder."
That winter, Lavarnway asked the coaching staff for an opportunity to catch, and caught some bullpen sessions in the spring. The coaching staff liked the way he received the ball and noticed he had good hands.
Meanwhile, Lavarnway had devoted himself to training during the offseason. Lavarnway, who is 6-3, now weighs in at about 230 pounds after arriving on campus at about 200, according to Stuper.
"It's mandatory for the players to be in the weight room three or four times a week, and he has taken that to the nth degree," his coach said.
In 2007, the Bulldogs found a new catcher.
"The transition was difficult physically at first," Lavarnway said. "I love catching. "The mental focus as a catcher is much greater, knowing what a pitcher needs to know about their mechanics or needs to hear. This is the stuff that I love about baseball."
Of course, during 2007 Lavarnway also was becoming the most dangerous offensive player in the Ivy League and one of the best in the country. He was named to Baseball America's All-American Third Team.
"He has good hitting skills for a kid with plus-plus power," Whalen said.
Added Stuper: "You hope kids improve, but you never dream that he could improve this much."
Even as Lavarnway was having a terrific offensive season, he was improving his defensive work at the most demanding position on the diamond. Stuper noted that his footwork improved every day and continues to get better. He also has good arm strength and accuracy.
"I think he's going to catch at the next level, and most scouts I talk to agree," Stuper said.
Lavarnway also has become a team leader. The pitching staff enjoys throwing to him, and he has developed a knack for saying the right thing or staying quiet to keep a pitcher focused, Stuper – former big league pitcher – said.
"Something that can go unnoticed for young leaders is personal relationships on and off the field, knowing what makes your teammates tick," Lavarnway said.
Attending Yale has also been a good experience.
"The fact that student-athletes at Yale don't get any special privileges says a lot about the institution," he said.
Students must graduate in four years, so they cannot avoid a full class load.
"It really teaches you some life skills," Lavarnway said.
The Ivy League has no scholarships, so schools typically do not get finished products, according to Stuper. In addition, they have to recruit the brightest students in the country.
"We try to develop these kids as players and people," Stuper said. "It's really rewarding with a guy like Ryan."