(photos by Tony Marable)
The team. The history. The crowd. The environment.
Tennessee Tech coach Matt Bragga had a simple message for his team the past couple days as it prepared to face ACC champion and No. 1 seed Florida State.
"My rallying cry to the team for the last couple days, it isn't about if you guys are good enough to beat Florida State," Bragga said late Friday night.
Instead, it was the tradition that is Florida State Baseball.
Bragga tried to prepare his team as best he could, encouraging them to "Bring it on." Loud crowd, bring it on. One of the top teams in the country, bring it on. Tradition, bring it on.
For a night, it worked.
Michael Wood dazzled over six innings and got perfect relief from Travis Moths, and Ryan Flick delivered a two-run double in the top of the ninth to break a 1-1 tie as the Golden Eagles stunned the Seminoles 3-1 on the first day of the NCAA Tournament.
Tennessee Tech (41-19) moves on to face Auburn, which knocked off UCF on a day when the top two seeds in the Regional stumbled.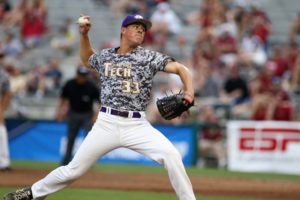 And the Golden Eagles have Wood (pictured above) and Moths (pictured left) to thank. Wood allowed four hits and one earned run – an RBI single from Quincy Nieporte in the sixth – before yielding to Moths, who finished with four strikeouts over three silent innings.
Drew Parrish was brilliant for the Seminoles (39-21), allowing only two hits and one earned run with 12 strikeouts in 7.1 innings. Bragga said he was thinking, "Was that Tom Glavine out there?"
That one run, however, was big for Tennessee Tech. Catcher Chris Brown singled to open the inning, and pinch-runner Cody Littlejohn moved up on a bunt by Matt Jones. Drew Carlton relieved, and Nick Osborne greeted him with an RBI double to tie the game. Osborne entered with 36 at-bats and only seven RBI.
"Once we tied the game up, we had a really good feeling," Bragga said.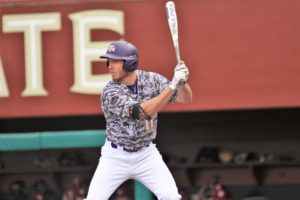 Trevor Putzig singled, and Kevin Strohschein doubled to open the ninth, chasing Carlton. Flick (pictured right) greeted Alec Byrd with a double down the right-field line to give the Golden Eagles a 3-1 lead.
Moths made it stick, and Tennessee Tech out of the Ohio Valley Conference, had its first NCAA tourney win since the Clemson Regional in 2009.
"It's a league that honestly is a little bit underrated," Bragga said.