March 26, 2008
Team of the Week
Missouri named Team of the Week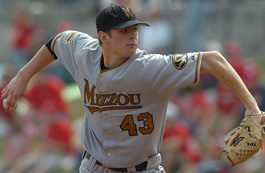 After posting a perfect 5-0 week, including a three-game sweep of nationally-ranked Baylor, Missouri has been named CollegeBaseballInsider.com Team of the Week.
The Tigers recorded two wins over South Dakota State before sweeping Baylor in a three-game Big 12 series over the weekend. The Tigers outscored the Bears 22-2, with shutouts of 7-0 on Friday by Aaron Crow (pictured) and 3-0 on Saturday before a 12-2 finale.
Honorable mention goes to Long Beach State, which went 4-0 with a win over San Diego State and three victories over nationally-ranked UCLA. St. John's was also 4-0, with a win over Fairfield and a three-game Big East sweep at Rutgers. Florida earned a win over nationally-ranked Florida State and took two of three SEC games at nationally-ranked Ole Miss. USC won two of three Pac-10 contests against nationally-ranked Arizona. Houston won two of three Conference USA contests at East Carolina. Auburn got a win over Troy and took two of three SEC games from previously unbeaten Kentucky. Florida Gulf Coast split a pair with Bethune-Cookman before sweeping a three-game series with Mercer to climb into first in the Atlantic Sun. UNC Greensboro defeated Princeton, won at High Point and swept a three-game Southern Conference series at Appalachian State. Florida Atlantic won a half dozen home games with wins over Cornell, Rutgers and New Jersey Tech before sweeping a three-game Sun Belt set against Middle Tennessee. Troy went 4-1, with a win over North Florida, a loss at Auburn and a three-game Sun Belt sweep at Western Kentucky. ULM rebounded from a loss to Southern Miss to sweep a three-game Sun Belt set at Arkansas State. Charlotte went 6-0 at home with three wins over Stony Brook and a three-game Atlantic 10 sweep of Saint Louis.
Previous Teams of the Week
Feb. 26 - North Florida, San Diego State