Zach Miller is a sophomore second baseman at Ole Miss. He was a freshman All-American after hitting .368 with four homers, 30 runs and 31 RBI in his rookie season with the Rebels. A native of Germantown, Tenn., Miller appeared in 45 games a season ago with 39 starts. He was named to the NCAA Oxford Regional All-Region Team at second base after hitting .360 with a homer, six runs and five RBI.
April 1, 2008
Working Through Tough Times
This week has been tough. As a team, we are still trying to find ourselves, in other words our team personality. It may seem like we are not trying our best, but I guarantee that we are trying our best to win. Right now as a team we are taking one week at a time. We are going to take one inning at a time and try to beat that team in that particular inning.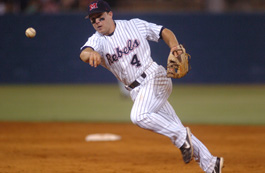 We had a team meeting which was called by our captains Evan Button and Fuller Smith. We just talked about our team as a whole and to go out there and relax and have fun. I believe that we are trying our best, but I think we are pressing and not playing relaxed like the beginning of the year. We just need to get back to square one and just play the game. We hit a bump in the road last year around the LSU series and we also had a team meeting. It is part of it. We just need to work individually to get better which will improve the team as a whole. We are experiencing some adversity right now and I believe we need to stick together as a team.
Florida was tough and we just did not play our A game on Saturday and Sunday which is why we were defeated. The Southern Miss game was very upsetting because of the way they won. They battled and wanted to win more than we did. That is when we need to stick together and believe that each one on the team is going to get it done on the field and on the bench. The Alabama series ended on a good note as we stuck together and made plays. Cody Satterwhite made the pitches we needed and Justin Cryer closed it down for us. We had lots of defensive stops in the outfield and scratched out a win by coming up with the runs and the big plays when we needed them.
This week is another big challenge as we go back to playing five games with two games against Memphis before hosting a great team in Vanderbilt.
We will be fine because we have a great team and a great coaching staff.

Zach Miller