Zach Miller is a sophomore second baseman at Ole Miss. He was a freshman All-American after hitting .368 with four homers, 30 runs and 31 RBI in his rookie season with the Rebels. A native of Germantown, Tenn., Miller appeared in 45 games a season ago with 39 starts. He was named to the NCAA Oxford Regional All-Region Team at second base after hitting .360 with a homer, six runs and five RBI.
March 21, 2008
Up and Down, Looking for Steady

It's been up and down the past week, but we're fighting to steady things and get back on track.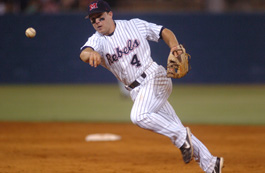 We have really faced some teams that really have put it to us. TCU and Western Kentucky just played better than we did and wanted it more than we did. We have definitely learned that we need to come out to play every game and never take a game off, or we will get beat.
Hitting has been up and down the past couple of games. Hopefully we can find the bats and get it going like we did at the beginning of the year. Coach Bianco told us to keep working and to have good at-bats find ways to win the game. I think we just need to relax and have fun. We are just too tense and uptight, which is causing us to feel pressured and is not helping us. Western Kentucky really came to play the second day. We could never get the bats going and we fell short by three runs.
We got things going against Mississippi State and picked up a big series win in the first weekend of Southeastern Conference play. The offense was rolling, as we won the first two games 15-6 and 11-6. Our pitchers really did a good job of helping us stay in the game while we found our rhythm at the plate. It would have been nice for a sweep, but it's always important to take two on the road in conference play.
We split our midweek games this week, falling to Central Arkansas in extra innings on Tuesday before coming back and really hitting the ball well against UALR on Wednesday. We really need to carry that momentum into this weekend because it's back into SEC play against a Florida team that swept Auburn last weekend.
It's at home, though, so I'm really looking forward to playing in front of our home crowd again. Happy Easter.

Zach Miller