Zach Miller is a sophomore second baseman at Ole Miss. He was a freshman All-American after hitting .368 with four homers, 30 runs and 31 RBI in his rookie season with the Rebels. A native of Germantown, Tenn., Miller appeared in 45 games a season ago with 39 starts. He was named to the NCAA Oxford Regional All-Region Team at second base after hitting .360 with a homer, six runs and five RBI.
March 7, 2008
That Losing Feeling


This week has definitely been a challenge for us as a team.

We have faced some tough teams such as Indiana State and Arkansas State. Both of these teams really put it to us and challenged us, but I think it will make us better as a team.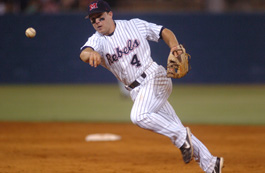 Sunday's game against Indiana State was a tough game that we never gave up on. Matt Smith helped us tremendously, tying the game in the ninth with a two-run single with two outs and two strikes. He then helped us win the game in the 11th with a solo home run. He had an outstanding weekend and was a big part of us picking up our second sweep in a weekend series.

There are so many players on the team that deserve credit towards the wins against Indiana State. We really had a tough loss to Arkansas State, which put a bitter taste in our mouths. I think I can speak for everyone when I say that it was very upsetting to lose. Coach Bianco said that losing is no fun, and I think we now really understand how bad it feels to lose. Who really wants to lose? No one likes to lose.

Arkansas State really came out swinging and was ready to play. They were making plays and hitting the ball all over the yard. They did everything right to win the game. On the other hand, we as a club did not pitch, hit or field well as a team.

Coach says that to have a chance to win a game, you have to do at least two of these three things well. We did not do any of them well, which is why we did not come out with the win. Coach Bianco told us to flush this loss and to be able to rebound from this and be ready for this weekend against TCU.

I promise we will be ready to get this bitter taste out of our mouths.

Zach Miller