Zach Miller is a sophomore second baseman at Ole Miss. He was a freshman All-American after hitting .368 with four homers, 30 runs and 31 RBI in his rookie season with the Rebels. A native of Germantown, Tenn., Miller appeared in 45 games a season ago with 39 starts. He was named to the NCAA Oxford Regional All-Region Team at second base after hitting .360 with a homer, six runs and five RBI.
February 21, 2008
Wow!! It's Finally Here
After a long fall and spring, the first game is around the corner. I can tell that everyone on the team is tired of playing each other and ready to play someone that counts. We open the season tomorrow, and I know I am ecstatic, as is everyone else involved with the Ole Miss baseball program.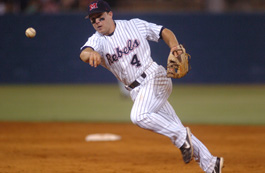 The fall and spring went really well. The pitchers threw a lot of strikes, and the hitters did just as well adjusting to the pitchers. As a team, we hit about 80 home runs through both the fall and spring. I think there is more power this year than last year's team. I also think that team chemistry is a lot better this year, which is surprising with all the new faces.
I think this will be a great year because we have a lot of depth at each position that will help us throughout the season. There are at least two players at each position who are capable of getting the job done and more.
I have really enjoyed the team thus far, and I think 2008 will be special for Ole Miss. Coach Bianco has done a great job in getting us prepared for the season. Coach thinks this year will be a year to remember – as does everyone else in the program.
The key word for every year with Ole Miss baseball is "Omaha." I have been here for three years, and that word is mentioned often because that is our ultimate goal, and we will never settle for anything less.
The field is undergoing construction throughout the whole year, but that will have no effect on us playing baseball and going out there to win each game. The stadium will be completed next February. Go Rebels!
Zach Miller