Matt Carpenter is a junior third baseman at TCU. He was a two-year starter for the Horned Frogs before having his 2007 season cut short by injury. A native of Sugar Land, Texas, Carpenter started 62 games during his sophomore season in 2006 and batted .349 with 84 hits and 36 runs. He was named second team all-Mountain West Conference. TCU is the two-time defending champion in the Mountain West.
February 5, 2008
The Countdown is on...
The last couple of months have been really good for our team.

We have been getting after it in our individual work and just this last week started official team practice and intrasquad games. It has really given us a chance to improve and come closer together as a group.

We have a great group of guys who are committed to one thing, and that is "improving every day." It's been really fun seeing this team mold together this fall and it's going to be an exciting spring knowing that we're all on the same page.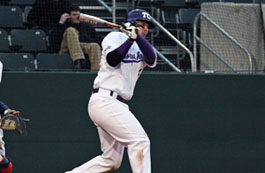 Our schedule this year is one of the toughest in the nation, and we could not be more excited about it. We open up at home against Cal State Fullerton and to be honest, we have not really looked past that. We are pretty focused and are counting down the days until February 22. We have an opportunity to do some pretty special things this year, and we are working every day to get closer to the goals we have set.

We still have 15 practices left, and although we are all extremely excited and anxious to play, we know there is a lot of work that needs to be done before then. We have a group of guys who know how to work hard and that's all you can ask for at the start of every season.

This past weekend, we had our alumni weekend. It is always a great weekend for our program. At our banquet, we had Jon Daniels and Ron Washington, general manager and manager of the Texas Rangers, come and speak to us. They did a tremendous job and were very entertaining.
<![if !supportLineBreakNewLine]>
<![endif]>After the banquet Friday night, we had the alumni event on Saturday, and that really showed us how many great players have come through TCU.

With Lance Broadway, Chad Huffman, Sam Demel and Jake Arrieta in attendance, there were a lot of future stars in the mix. Overall, the alumni weekend was a fantastic event.
Matt Carpenter