Logan Gelbrich is a senior catcher at San Diego. He played in 60 games a season ago with 56 starts and saw action as designated hitter and in left field as well as behind the plate. A native of Los Angeles, Gelbrich was named first team all-West Coast Conference in 2007 after hitting .316 with 67 hits, including 16 doubles, and 38 RBI. Gelbrich handles one of the top pitching staffs in the nation.
***Congratulations to Logan Gelbrich for being named West Coast Conference Player of the Week. He batted .467 (7-16) in four games with two doubles, four home runs and six RBI. Gelbrich went deep in each game over the weekend with Gonzaga, including a double and two homers on Saturday.
April 8, 2008
Super Bowl XXXI, XXXII, and XXXIII Champs
Today, thirty-three games into the season, the Toreros answered back with a sweep of the Gonzaga Bulldogs in a run for another conference championship. This weekend was a perfect response to an unacceptable series and midweek contest the previous week.
A return to individual responsibility and a lack of excuses were key ingredients in this weekend's performance, and prove to be a theme of a championship future.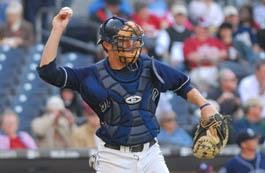 I spoke with the team before the game Friday and made sure that it was understood that though it is said often in a cliché manner, that Friday's game was the most important game of the season and that we had better believe it! I shared my feeling that in hindsight this summer we will look back on Friday and say that it was the turning point where we either made a choice to give the commitment needed to achieve our goals or it was the point where we gave it all away. So we treated Friday like it was our Super Bowl, and we played like it.
After the game, the message was much of the same. I expressed that unfortunately in our line of work it doesn't get any easier and that now tomorrow is our Super Bowl. In my opinion, given the intensity and commitment we should bring every day, we should never lose. So from here on out, conference game or not, fans in the stands or not, our PA guy announcing our names like we are heavyweight contenders or not, we will try to play every game like it is our Super Bowl.
Break out the 7-layer dip, Tuesday is Super Bowl XXXIV!

Logan Gelbrich
(action photo by Brock Scott)