Logan Gelbrich is a senior catcher at San Diego. He played in 60 games a season ago with 56 starts and saw action as designated hitter and in left field as well as behind the plate. A native of Los Angeles, Gelbrich was named first team all-West Coast Conference in 2007 after hitting .316 with 67 hits, including 16 doubles, and 38 RBI. Gelbrich handles one of the top pitching staffs in the nation.
March 27, 2008
Headed to Battle
On the eve of conference play, the Toreros are set for battle, because in the West Coast Conference it is exactly that - a battle.

Regardless of national rank or lack thereof, any team can win on any given day. In our conference, every game is an all-out war of offensive execution, pitching and flawless defense. It seems to be a war of coaching as much as a war of pitching, defense and offense. Teams are extremely familiar with each other's tendencies, so great games are often spiced up with trick plays and tomfoolery.

Friday, we take the field against a tough Santa Clara squad to start conference play, and we are quite an excited group. Brian Matusz is starting and looking great coming off his 16-strikeout performance in his last outing. The rest of the weekend arsenal is equally hot in that Kyle Blair also is coming off of a fantastic outing and has been extremely dominant as of late. And last but not least, Romo [Josh Romanski] is looking the best I have ever seen him look as a Torero. He has made a slight adjustment in his mechanics that has made a devastating pitcher even more effective.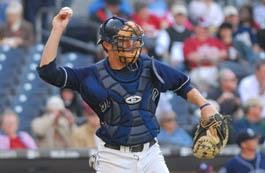 Romo reaped the benefits of his adjustment by tossing the first Torero no-hitter in 12 years this past week. In the first inning, I knew he had some special stuff that day as he was absolutely pin-point while mixing four pitches. Catching his no-hitter was something I will remember for the rest of my life and is a performance like I have never seen, on either side of the ball.

Don't count the offense out as we scored an impressive 54 runs in the last five contests. And what is equally impressive is that we are getting productivity up and down the lineup with a multitude of hitters contributing, from freshmen like Tony Strazzara, who is allergic to getting out, and James Meador, who is breaking out as a premier bat in our lineup!

The Toreros are ready to attack the West Coast Conference in search of another title. What I think will help us in our quest is we know how hard it is. We realize how difficult it is to win and that we will have to fight extreme adversity and play with a high level of intensity. Last year, our championship included conference wins that were nail-bitters, come-from-behind, landslides, walk-offs, early leads and early deficits and even an inning in which we gave up nine runs in the top and matched with nine runs in the bottom. We know the team that plays the best wins, and our only immediate goal is to play our best Friday.

Logan Gelbrich
(action photo by Brock Scott)