Logan Gelbrich is a senior catcher at San Diego. He played in 60 games a season ago with 56 starts and saw action as designated hitter and in left field as well as behind the plate. A native of Los Angeles, Gelbrich was named first team all-West Coast Conference in 2007 after hitting .316 with 67 hits, including 16 doubles, and 38 RBI. Gelbrich handles one of the top pitching staffs in the nation.
March 13, 2008
Big Wins, Not So Big Celebrations

Four years ago, the Toreros played Cal State Fullerton at their place, and lost a one-run ball game in the 13th inning. Then, that was a little bit of an accomplishment. As the last out was recorded in our 6-2 victory over the Titans last night, there was less jubilation in the air than even our loss to the same team, four years ago.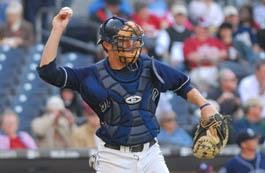 The tradition of excellence and level of play from Cal State Fullerton is a benchmark for all of college baseball, and to anticipate and achieve victory over such a great program is impressive regardless of who you are. One cannot ignore the consistent Fullerton presence in Omaha from year to year.
But from the perspective of a Torero, times are changing in our camp. Fullerton has proven it is a mainstay at the forefront of college baseball, and I believe USD's presence as an elite program is here to stay as well. The little private school on the hill has grown into a national power, and it is something special to see, from my freshman year being a team without an invitation to the postseason to a team that can compete in the upper echelon of college baseball as a senior.
Despite the phenomenal 2007 season, we are still growing as a team and have not come anywhere near playing our best baseball. But I really believe these growing pains are well worth it to play great baseball in June.
As of right now, we are preparing and focused on the moment. We are ready to take Western Illinois head on and move into our trip to Hawaii with some real momentum.
Logan Gelbrich
(action photo by Brock Scott)