Logan Gelbrich is a senior catcher at San Diego. He played in 60 games a season ago with 56 starts and saw action as designated hitter and in left field as well as behind the plate. A native of Los Angeles, Gelbrich was named first team all-West Coast Conference in 2007 after hitting .316 with 67 hits, including 16 doubles, and 38 RBI. Gelbrich handles one of the top pitching staffs in the nation.

February 27, 2008

Lesson Learned

Unfortunately, it took a punch in the mouth from cross-town rival San Diego State before we started playing good baseball.

With one of the toughest weekends I can remember as a Torero behind us, the team seemed to take some valuable lessons from our poor opening weekend against a very good SDSU team. And it showed in our matchup against Long Beach State tonight (a 5-3 win).

As we drive back to San Diego, the mood on the Torero bus is a much more lighthearted one, and that's how it should be around here. In the Navy, a common phrase in Seal Team training is that "It pays to be a winner," and we could not agree more after feeling the pain of losing compared to that of beating a good opponent.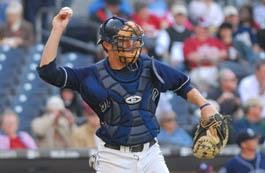 It took a lot of maturity as a team to get beat so and stick to our plan and make the adjustments we did tonight. Every game is an absolute war on the West Coast, and now I think a lot of the new guys see that. Now that we know we all are human, hype or not, we can really get back to our roots as a team that competes like mad men!
After our loss Saturday night at State, I spoke with the team about where we were at and where we needed to go. Basically what I said was that what we didn't need was a million theories, explanations and/or excuses for our poor play. I told them that we just need to play better baseball, and it is our individual responsibility to do so, and that it was going to start with me.
Baseball is a difficult game, and a lot of things need to go right to have success in this game. We showed a lot of good things tonight on the mound, in the field, at the plate and in the dugout. This weekend is where our focus is, and it's another great opportunity to compete against some outstanding programs as we are hosting one of the best tournaments in the country.
This team knows it is just as lethal on any given game day, regardless of what happened the game before. I think we are much more dangerous coming into the weekend having learned our lesson – that every game is going to be a brawl!
Logan Gelbrich
(action photo by Brock Scott)