Jerrod Farley is a junior outfielder at Norfolk State. In 2007, he led the Spartans with 49 games, 48 games started, 13 stolen bases and 15 stolen base attempts. A native of Chester, Va., Farley tied for second on the team with four home runs. He batted .264 in MEAC play, starting all 17 conference games for NSU. Farley homered in the MEAC tourney opener against Florida A&M.
February 19, 2008

Hoping the Offseason Work Pays Off
Having 12 new faces added to your college baseball team's roster, you would think that there would be some personality clashes.
However, when you have 12 new guys coming in with the same interests and goals, somehow everything tends to fall in place.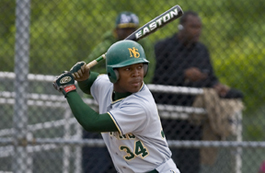 This fall, during small group workouts, you could feel the adrenaline pumping throughout the team. With every swing of the bat and every throw made, you could tell that hard work was being put in.
During the first couple of weeks of fall workouts, guys began to find their niche on the team. Captains and upperclassman did their best to make the newcomers feel welcome.
When we were not working out, we hung out and did things together as a team to begin building some team chemistry. It seemed as if even when we were out having fun, something about the baseball team would be mentioned – and that is good sign. When you have a group of guys who are dedicated to the game, it makes everything easier while you are on the field.
When it was raining and we could not get on the field, the guys worked hard to get as much done as they could inside to make themselves better. As soon as February 1 came, guys were pumped to get out on the field as a team for the first time. It was as if everyone was ready to see what we looked like as a team. Guys were enthused and looked as if we were already in midseason form.
With the season starting this weekend, guys could not be more excited. We are ready to see what our hard work during the fall has to offer for us as we get the 2008 season under way.
Jerrod Farley