Feb. 2, 2008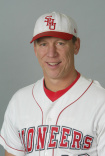 The Super Bowl Skipper
By Sean Ryan
CollegeBaseballInsider.com Co-Founder
click here for additional Super Bowl notes

A cold rain soaked Fairfield, Conn., Friday.

That couldn't dampen the spirit of Nick Giaquinto, whose Sacred Heart Pioneers welcomed the promise of another college baseball season with an indoor workout.

Come Sunday, the Sacred Heart skipper will relive a memory.

Twenty-six years ago, Giaquinto was a part of Washington's 27-17 win over Miami in Super Bowl XVII. A running back who started his career with the Dolphins, Giaquinto didn't show up in the box score in the win. But there he was, leveled in the middle of the field on a 30-yard pass interference call on Lyle Blackwood shortly before the half. And there he was, making a key block on a blitzing Bob Brudzinski, enabling Joe Theismann to drop back and roll out in time to find Charlie Brown for the final margin.

"These are my highlights, things nobody saw," said Giaquinto, whose No. 30 Pioneers jersey matches his No. 30 Redskins jersey.

That he even played in a Super Bowl, let alone a second one the next year in Washington's loss to the Los Angeles Raiders, was a remarkable feat.

After a year at the University of Bridgeport, the school dropped football. Giaquinto enrolled at Connecticut, where he starred for three years and capped his career with a school-record 277-yard performance in a loss to Holy Cross. He also holds a school record with a 100-yard kickoff return.

Giaquinto was cut by the New York Giants in 1977 and cut again by the New York Jets in 1978. He was playing semi-pro ball with the Eastern Connecticut Sea Raiders before getting cut by the Ottawa Roughriders of the Canadian Football League in 1979.

"Originally, I thought I'd give it three tries," Giaquinto said.

But, he got a chance. Dan Henning, a future head coach, had seen Giaquinto when he was working out with the Jets and liked what he saw and pushed Don Shula to bring the running back to Miami.

"If it wasn't for Dan Henning, I probably never would have set foot on a NFL field," said Giaquinto.

Two years later, Henning helped bring Giaquinto to Joe Gibbs, the Redskins and a Super Bowl matchup with the Dolphins.

"It was special for me because we were playing the Dolphins," he said. "Don Shula was the first guy to give me an opportunity. It was exciting because it was my former team."

He watched as former buddies David Woodley (76-yard TD pass to Jimmy Cefalo) and Fulton Walker (a record 98-yard kickoff return) helped Miami take a 17-13 lead. Then, on a fourth-and-1 with about 10 minutes left, John Riggins broke through for a 43-yard touchdown that fueled Washington's first Super Bowl title.

"That was the highlight, that's for sure," Giaquinto said. "That was our short-yardage offense. I think we called it heavy jumbo: three tight ends, all the big guys. It was a gorgeous play. Every time I see the highlights, I still get chills."

After the Super Bowl loss to the Raiders, Giaquinto called it a career.

"I loved every minute that I played from Pop Warner on to my last game," he said. "I understood that there is a risk and reward. It's a risky business. I just wanted to get out in one piece."

He spent a year as a travel agent in Reston, Va., then moved to Rhode Island for a year.

Giaquinto always thought he might coach football, but he landed on Billy Brown's staff at George Mason, where he attained his master's degree in education.

"It was a good transition," said Giaquinto, who played a year of college ball at Bridgeport. "I learned so much in my first two years there. It was a tremendous place to get my first experience."

When the Sacred Heart job opened up, George Mason Athletic Director Jack Kavancz, who was from Bridgeport and knew of the Super Bowl champ, contacted Sacred Heart Athletic Director Dave Bike.

Nineteen seasons, more than 360 wins and a shift from Division II to D-I later, Giaquinto is still leading the Pioneers, including a Northeast Conference crown in 2006 and a trip to the NCAA Tournament. Yet, the baseball coach hasn't entirely lost his football roots.

"Having played under Don Shula and Joe Gibbs, that's had a huge effect on me," Giaquinto said. "Just in the way that I try to handle players. They were different in a lot of ways, but the thing that made them similar was their clear communication.

"I think that's what players want. Good news or bad news, they don't want to be jerked around."
His early teams "responded well" to the football player turned baseball coach. His recent teams have to believe the memories.
"With the early guys, I rarely talked about it," Giaquinto said of his football career. "I rarely talked about it. I talk about it more now than I did with the early teams. It was never really a topic. They knew what I had done, but I didn't want it to be distracting.
"I'm having a little more fun with it. These guys weren't even born when I was playing. They wonder if we had facemasks back then."
(photo courtesy of Sacred Heart Media Relations Office)