Feb. 15, 2008
Nine Innings with Mike Trapasso
By Andrew Finley
CollegeBaseballInsider.com

Hawaii gets the college baseball season under way against Hawaii-Hilo tonight at Les Murakami Stadium in Honolulu. Coach Mike Trapasso, beginning his seventh season as the head man for the Rainbows, took some time to chat about his squad and coaching in Hawaii. Trapasso led Hawaii to the NCAA Regionals in 2006 for the first time since 1993. He was named one of CollegeBaseballInsider.com's three finalists for national coach of the year for the Rainbows' remarkable turnaround.
As a player, the left-hander led Oklahoma State to the College World Series in 1984 and 85. He also pitched and coached for Team USA. Prior to taking over at Hawaii, Trapasso spent seven seasons as an assistant at Georgia Tech.
First Inning – What are some of the unique challenges and advantages of recruiting for a place like Hawaii?
We like to say that Hawaii offers a unique college experience that cannot be offered at mainland schools. The beauty, the beaches, the culture...the fact that we have over 1 million people on Oahu, with no professional sports teams, means the entire community focuses on and supports the University's sports teams. That's why we get great attendance for all of our nonrevenue sports. It also means intense media coverage....virtually all of our home games are televised statewide. Two
newspapers and two sports-talk radio stations mean the University is always front and center.
The challenge, however, is getting recruits to come this far. Even the West Coast students are 2,500 miles from home...and that presents a huge challenge for us when recruiting. We tell kids that if you can get over the distance hump...it's a great place that is very unique. The fact is though, that that's a big hump to get over for most kids.
Second Inning – What's tougher: getting a local kid to stay close to home, or getting a kid from the mainland to come to Hawaii?
Getting the mainland kids to come this far is the biggest challenge. There is definitely talent here in Hawaii...but the state's population is only about 1.5 million. There are local kids definitely who want to stay home and local kids that want to experience the mainland....much like other places.
Third Inning – What are some of the challenges in scheduling and travel that go with being so far from most of your opponents?
Scheduling is actually not that difficult for us.....mostly because other teams want to come out to Hawaii to play. We have other issues on the horizon, with the condensed schedule, that may make it more difficult in the future, but right now I'm finished with 2009 and have only three open weekends for 2010.
Travel, on the other hand, is a different story. Our shortest trip is still a five-hour flight. So that makes travel fairly unique for our program. But, as they say: That's the price you pay to live in paradise!!!
Fourth Inning – Talk about taking the Rainbows to their first NCAA tourney in 13 years in 2006. What have been some of the keys to your success in building your program into one that can contend for a NCAA bid each year?
2006 was a fun year in that we were able to say the entire team was recruited by our staff, and we were able to get Hawaii back to the postseason for the first time since the early 1990s. It was a culmination of a lot of work by our staff, and hopefully something we can build upon to enable us to continue having successful years on a regular basis. We have to continue to recruit talented student athletes that aren't afraid of experiencing a unique culture in a unique place.
Fifth Inning – What is the relative strength of the WAC compared to past years? To other conferences?
This year, I think our league will be as strong as it's been the last few years. Fresno State returns most of their players and is a legit Top 25 team. Louisiana Tech probably has the most overall talent. Nevada has a very good offensive club.....and San Jose State has, in my opinion, one of college baseball's best coaches in Sam Piraro.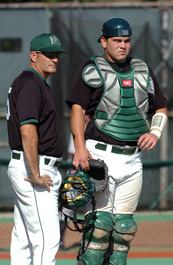 Sixth Inning – You were strong on the road in 2006 before struggling last year. In addition to better road play, what are some of the keys for your squad this season?
We were 16-5 on the road in '06, which I thought was quite an accomplishment when you consider we travel at least twice as many miles as any other team in the country. Playing well on the road for us is like any other program...you have to focus on execution and playing the game the way you practice. It's about toughness.
This year, we are a young team. We have 12 freshmen...15 new players overall. What makes things interesting is that almost all of our freshmen are pitchers. We have talent on the staff, but it's young, inexperienced talent. How they react to adversity and grow through the course of the year will determine how much success we will have.
Seventh Inning Stretch – Your stadium was refurbished over the off-season. Isn't your campus attractive enough already?
Our stadium did get a bit of a facelift. We got rid of the old Astro-turf and replaced it with Domo-turf (similar to Fieldturf). It looks great and has been very well received by our players. After the season, we will be replacing all of our seats in the stadium with green chair-back seats. The total $2 million refurbishment is the first phase in what will be an overall renovation to take place over the next few years. Les Murakami Stadium is one of the best venues in college baseball. It was showing some age and needed some help...which we've started to do.
Eighth Inning – What do you remember about pitching in the College World Series? Team USA?
Playing at Oklahoma State in the mid-80s was a great experience...one that was the reason I went into coaching. And both playing and coaching on the USA Team was as great an honor as any player or coach could receive...and were experiences I will always cherish.
Ninth Inning – Has the recent success of the football team helped you with baseball recruiting? Any chance that Colt Brennan will toe the rubber for the
Rainbows this spring?
I think anytime your football team is doing well it helps with all other sports. We had several games on ESPN this year and they were all three-hour advertisements for the state of Hawaii.

As far as Colt pitching for us this year........I wish!