Feb. 22, 2008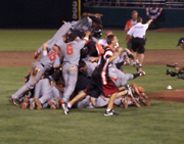 Nine Innings with Mike Stutes
By Phil Stanton
CollegeBaseballInsider.com Co-Founder
Mike Stutes is a senior right-hander for two-time defending national champion Oregon State. A preseason All-American, Stutes posted a 12-4 record for the Beavers in 2007 with 129 strikeouts in 132.2 innings. He started nearly one-third of OSU's games a season ago, 22 of 67. Stutes recorded victories over Arizona State and North Carolina in the College World Series, including the title-clincher over the Tar Heels. He was drafted by the St. Louis Cardinals in the ninth round, but did not sign. Stutes took some time before the Beavers' season opener with Vanderbilt to talk about himself and the Oregon State program.
First Inning – What did it feel like to win a second national championship?
It feels good. The first one we won, we had all our guys come back, and so we were expected to be in it and making a run for it. And then last year at the beginning of the season, everyone was telling us that we didn't have a chance and that we had lost too many guys and that we'd lost our big players. It was pretty rewarding to win when people didn't think we could.

Second Inning – Last June, did you think you would be back at OSU this spring?
No, I thought there was no chance. I was planning on signing, but then over the course of the summer I realized this is what I wanted to do and that I wanted to come back for one more year.

Third Inning – How difficult was it not to sign a professional contract?
It was really tough, because that is my goal and that is what I want to do. It was my second time being drafted and it was hard to turn it down again. It's kind of a big risk because I really don't have any leverage in the draft this year. It was tough on all different levels, but I think it was the best decision.

Fourth Inning – Do you feel that the Beavers have carried the banner the past two years for West Coast baseball?
Yeah. I guess so. I mean we've won the last couple years. I mean we're kind of looked at as the premier team in the northwest. I don't know about the whole West Coast. There are some programs with some pretty strict traditions like Cal State Fullerton and UCLA, USC, Arizona State. They have been good for the past 20 or 30 years, not the last two or three. So I think we have some ways to go, but as for the last couple years, I think we're right up there.

Fifth Inning – How do you see the Pac-10 race shaping up this season?
I think it is going to be the best season the Pac-10 has ever had. I was looking in the polls and I think three different polls have a Pac-10 team as Number 1 overall. So it's going to be a deep league and it is going to be a battle every weekend. No easy weekends in the Pac-10.

Sixth Inning – What are your personal goals for the 2008 season?
Personal goals are just to improve on last season. I feel like I have gotten better since I've come here and I'd like to keep moving in the same direction. I'd like to keep improving my game and by the end of the season hopefully we'll be as successful as the last two.

Seventh Inning Stretch
Eighth Inning – What is your opinion on the uniform start date for Division I baseball?
It has a possibility of helping schools in the North that can't play home games in the beginning of the season, but I think that all in all it is actually hurting the student-athletes because we have to miss almost three months of school. If they would just extend it back out a month earlier we could just travel on the weekends and go to school during the week. Instead we're playing Monday, Tuesday or Tuesday, Wednesday. The season becomes very compact.

Ninth Inning – What is your favorite baseball movie?
I think I'd have to say Major League. It's a classic.