By Sean Ryan
CollegeBaseballInsider.com Co-Founder
@collbaseball  sean@collegebaseballinsider.com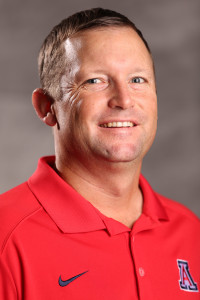 Jay Johnson's rise has been fast.
After eight years as an assistant at San Diego, where he recruited Kris Bryant and helped Rich Hill's squad reach six Regionals, Johnson took over the program at Nevada.
Two years and 72 wins later, Johnson was hired at Arizona to replace the retired Andy Lopez. Johnson inherits a Wildcats team that hasn't reached the NCAA postseason since winning the 2012 national championship.
When you got into coaching, could you have imagined leading a program like Arizona before you turned 40?
I never thought of coaching in those terms, it has always been for me a what's-important-now, and stay-in-the-moment type approach working as hard as I possibly could at recruiting and developing players. I am very honored to be the coach here at Arizona and am very grateful for the great coaches I have had an opportunity to work with and very thankful to all the hard work my former players have put in at Point Loma, San Diego and Nevada that made us successful and made something like this possible.
What does it feel like replacing a legend like Andy Lopez?
From afar Coach Lopez had an impact on my career, when I first started my coaching career, I bought his book (Coaching Baseball Successfully), and it was very helpful for me as I started to build my foundation as a coach. It is an honor to be a part of a program that has had such great coaches here over a long period of time. To be associated with coaches such as Coach Lopez, Coach Kindall, Coach Stitt, Coach Sancet and Coach McKale is an honor.
What characteristics do you envision your Wildcats teams becoming known for?
We want to be a program that is known for developing our players and preparing them well for professional baseball. I want us to be first known for how well we develop guys. I feel like if you make each individual player the best they can be, the team success will follow. On the field competitively, we want to be a team that takes care of details well, offensively, defensively and from the pitcher's mound. I want us to be a complete team that can win any type of game on any day and be very proficient in winning close games. With the schedule and competition we will play, that is very important, we will play in a lot of close games.
How has San Diego coach Rich Hill impacted you?
Outside of my dad, no one has had a greater impact on my life. It was a huge blessing and opportunity to work alongside coach for eight very successful years in that program in what was a very pivotal time for me and my development. It was a great opportunity to observe him on a daily basis in terms of leadership. His energy, work ethic, ability to teach, develop and motivate is second to none. Along with that, he gave me a tremendous amount of autonomy within every area of the program that made my transition from an associate head coach to head coach as smooth as it possibly could be. I owe Coach Hill a great deal.
What are some of the Wildcats' strengths heading into the season?
I think our strengths are that we have some older players with some potential to play better than they have to this point. We do have some experience on the team, and some guys have made some strides in their development. Pitching-wise, we are strong in numbers and will utilize everyone we can to collect 27 outs. On the position-player side, we have made some position switches that I believe will be beneficial and allow us some flexibility with the lineup until we figure out the right combination. I am looking forward to the challenge this 2016 season presents: We have a great schedule and every day will be a test and a good starting point to build the program back up.