March 31, 2008
CBI Live
No. 11 Vanderbilt outlasts Arkansas
By Jimmy Jones
Special to CollegeBaseballInsider.com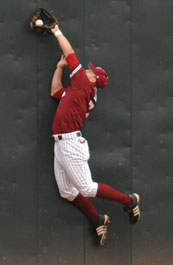 NASHVILLE – It took slightly less than 24 hours to complete a game that lasted four hours and twenty five minutes and was finished with just one swing of the bat by sophomore Brian Harris who hit a blistering two-out shot to the left field wall that Casey Coon (right, photo by Neil Brake) just missed making a great play on to complete the Vanderbilt Commodores' come-from-behind 6-5 win over Arkansas.

The teams started their scheduled 3 p.m. game on Saturday on time but it was delayed due to rain at 4:49 p.m. The game resumed at 9:45 p.m. and then was suspended due to curfew at 12:02 a.m. with the score tied at 5-5 after 11 innings of play.

After freshman right-hander Taylor Hill opened the 12th inning on Sunday by striking out the side, Parker Hanks started the Vanderbilt (4-3 SEC, 17-6) rally with a single off of Stephen Richards with two outs in the 12th and then scored on Harris' double off of Coon's glove to win the game.

Arkansas (2-5, 15-10) scored five runs off of Commodore ace Mike Minor in the fourth to take a 5-2 lead. Aaron Murphee had a RBI single and then the Razorbacks executed a suicide squeeze bunt by Ryan Cisterna that Minor fielded and threw to the plate in a close play that went the visitors' way.

Ben Tschepikow then singled sharply to right field to plate a run and another run scored when Dominic de la Osa let the ball roll past him to the wall to make it 4-2. The final run in the inning came on a RBI single by Sean Jones.

The skies opened up with a vengeance in the middle of the fifth sending players and fans alike under cover until the storm subsided some four hours later.

Russell Brewer pitched five innings of scoreless relief, striking out six and walking one on four hits to make a winner out of Hill for the third time against one loss.

Alex Feinberg finished the game going 5-for-6 with three RBI. Parker Hanks had three hits and Ryan Flaherty added two as the three batters combined for 10 of the Commodores 12 hits in the contest.

Right fielder Sean Jones was joined by Ben Tschepikow with two hits to lead the Razorbacks.

Stephen Richards took the loss for Arkansas with 1.2 innings pitched, giving up a run on two hits.

Vanderbilt 6, Arkansas 2

The 11th-ranked Commodores (18-6, 5-3 SEC) earned their first ever series victory over the Razorbacks in 11 previous chances dating back to 1994 as freshman Aaron Westlake had two hits and three RBI Sunday afternoon in a game shortened to seven innings at Hawkins Field.

"There was no rhythm to the weekend whatsoever," Vanderbilt coach Tim Corbin said. "I've never had a weekend like this."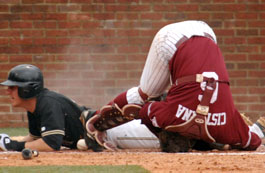 The Dores broke the game open with a four-run second to take a 5-0 lead. Shea Robin doubled with one out and Brian Harris was hit by a pitch to put runners on first and second. David Macias flied out for the second out before de la Osa doubled down the first base line to bring in Robin. Ryan Flaherty walked and Westlake followed with a two-run single to score Harris and de la Osa (left, photo by Neil Brake). Steven Liddle walked with the bases loaded to finish the scoring.

Tim Smalling put the Razorbacks (15-11, 2-6 SEC) on the board in the fourth with a solo shot off of Caleb Cotham, the only home run of the series, to make the score 5-1.

After Vanderbilt added a sixth run on an RBI two-bagger by Westlake, Razorback first baseman Andy Wilkins smashed a RBI double in the top of the sixth inning to account for the final 6-2 score.

Arkansas had their chances in the game but squandered three bases-loaded situations in the first, third and sixth innings for a total of 13 runners left stranded.

Caleb Cotham (4-1) picked up the win in relief of Taylor Hill, allowing two runs on five hits in three innings of relief with six strikeouts and two walks.

Dominick de la Osa had two hits and three runs scored and Shea Robin added two hits as well to lead the Commodore attack.

Sean Jones returned from a hand injury to post three hits in the game for a total of five in the series to lead the Razorbacks offensively. Jones also made three outstanding defensive plays in right field including an over-the-shoulder grab on the warning track off the bat of Parker Hanks.

"It took us three days to just finish one game," VU catcher Shea Robin said. "It was different, but mentally we stayed with it and stayed focused. We didn't mess around during the rain delays. We were ready to play."