March 31, 2008
Rankings are from CBI Composite Poll
No. 11 Vanderbilt outlasts Arkansas
Around the Bases
Southern Miss hands No. 12 Rice its first C-USA series loss
Texas Tech upsets No. 6 Missouri; No. 9 South Carolina tops No. 13 Kentucky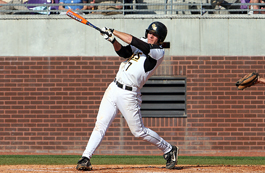 In Houston, Bo Davis drove in the go-ahead run in the top of the ninth as Southern Miss won its Conference USA series 8-7 Sunday at No. 12 Rice. It was the first time the Owls (4-2, 19-9) have lost a C-USA series since joining the league in 2006. Tyler Conn earned his eighth save, fanning the final two Owls with the bases loaded. Trey Sutton (right) had four hits, including three doubles, two runs and one RBI for the Golden Eagles (4-2, 17-8). Diego Seastrunk had two hits and drove in three for Rice.
Texas Tech 15, No. 6 Missouri 11
In Lubbock, Texas, Doug Thennis hit a walk-off grand slam to cap a six-run ninth as Texas Tech rallied for a second straight ninth-inning victory over Missouri. The Red Raiders (4-5, 14-12) rallied back from a 7-4 deficit in the seventh and an 11-7 deficit in the eighth – Tech scored 11 runs in the final three innings. Thennis went 3 for 3 with six RBI and Willie Rueda went 4 for 6 with four RBI to lead the Red Raiders offense. Ryan Lolliss went 3 for 4 with three RBI and Aaron Senne was 2 for 4 with two RBI to pace the Tigers (4-2, 20-5).
No. 9 South Carolina 6, No. 13 Kentucky 2
In Columbia, S.C., South Carolina used a four-run eighth to break a 2-2 tie and win its SEC series with Kentucky. Phil Disher broke the deadlock for the Gamecocks (6-3, 18-7) with his second RBI single of the afternoon. The USC pitchers, which had allowed 22 runs in the first two games, finally held the Wildcats (5-4, 22-4) offense in check. Starter Blake Cooper pitched 6.2 innings and gave up two runs on seven hits. Reliever Brandon Todd walked one and allowed no runs in 1.1 innings of relief.
No. 3 Florida State 3, Wake Forest 2
In Winston-Salem, N.C., Dennis Guinn drove in the game-winning run on a sacrifice fly in the eleventh as Florida State won its ACC series at Wake Forest. Elih Villanueva started for the Seminoles (11-1, 23-3) and went 7.1 innings, allowing just a single run on five hits and two walks while striking out a career-best nine. However, WFU (5-6, 12-13) starter Charlie Mellies was up to the task, holding the powerful Seminole offense to just one run on three hits over nine innings. Both teams scored in the first inning, as Buster Posey had an RBI double for Florida State and Dustin Hood had a run-scoring single for Wake, then did not score again until the tenth.

No. 15 California 4, No. 5 Long Beach State 3
In Berkeley, Calif., David Cooper had three hits, one run and one RBI as California completed a three-game sweep against Long Beach State at Evans Diamond. Cooper's run-scoring single capped a two-run third, and he doubled and scored in a two-run seventh for the Golden Bears (18-5-1). Alex Rollin (3-0) went five innings for Cal with six hits, one run, two walks and two strikeouts. Matt Gorgen recorded the final out in the eighth and retired the Dirtbags (17-7) in order in the ninth with two strikeouts for his fourth save. Brandon Godfrey had a two-run double in the top of the eighth for LBSU.
No. 7 UC Irvine 10, Cal Poly 6
In San Luis Obispo, Calif., Brock Bardeen and Francis Larson each homered as UC Irvine won its Big West series at Cal Poly. Larson, Ollie Linton, Ben Orloff and Sean Madigan each drove in two for the Anteaters (2-1, 19-3). Pat Pezet had a two-run single in the eighth for the Mustangs (1-2, 9-14).
No. 8 Arizona 8, UCLA 4
In Tucson, Ariz., Brad Glenn had two hits and three RBI as Arizona snapped its six-game losing streak with a Pac-10 victory over UCLA at Kindall Field. Glenn had an RBI single in the fifth and a two-run homer in the seventh for the Wildcats (2-4, 13-9). C.J. Ziegler had three hits and three runs for UA. Casey Haerther had two hits, including a homer, and two RBI for the Bruins (2-1, 12-10).
No. 10 Texas 12, No. 19 Nebraska 3
In Austin, Tex., the Texas offense came a live as the Longhorns hammered Nebraska to avoid a Big 12 series sweep. Kevin Keyes, Preston Clark and David Hernandez each drove in a pair of runs for the Longhorns (5-4, 18-8). Keyes and Clark both recorded their RBI on their third homer of the season. Starter Riley Boening pitched 6.1 innings, allowing three runs on just three hits. Kyle Russell was 3 for 5 for the Longhorns. Cody Neer hit his first homer for the Cornhuskers (7-1-1, 21-4-1).

No. 16 Virginia 2, Virginia Tech 1
In Charlottesville, Va., Virginia completed an ACC sweep of Virginia Tech behind another strong pitching performance. Andrew Carraway gave up just one run over 5.2 innings and the bullpen for the Cavaliers (8-4, 23-5), called into action for the first time in the series, kept the Hokes (0-12, 8-18) off the board. Jeremy Farrell homered in the third for Virginia, his fifth. Jarrett Parker was 3 for 3 and drove in the other Cavalier run.

No. 17 Ole Miss 3-2, Alabama 5-1
In Tuscaloosa, Ala., Ole Miss coughed up a 3-2 lead in the resumption of Saturday's suspended game with Alabama, but won the second game. In the first game, Josh Rutledge powered the offense of the Crimson Tide (4-5, 15-12), going 3 for 5 with a pair of RBI. Will Stroup took the mound for the Tide on Sunday after Austin Graham started on Saturday. Stroup went 5.2 innings, allowing just one hit while striking out five. The Rebels (4-5, 16-11) scored all three of their runs Saturday, Michael Guerrero was 2 for 4 with an RBI. In the second game starting pitchers Cody Satterwhite and Robert Phares dueled, with the Rebels' Satterwhite narrowly winning. He allowed just two hits and a run while striking out seven in 6.2 innings. Phares pitched into the ninth, allowing nine hits and the two runs while striking out three. Zach Miller was 2 for 3 for Ole Miss and scored the winning run in the ninth after Phares hit him to lead off the inning and Logan Power drove him in with a one-out single.