March 29, 2008
Rankings are from CBI Composite Poll
Around the Bases
Matusz outduels Garcia as No. 18 USD blanks Santa Clara
No. 19 Nebraska tops No. 10 Texas; UNI's Kirk no-hits Evansville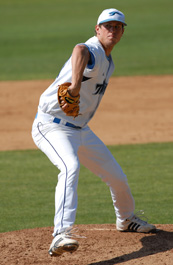 In San Diego, Brian Matusz (right, photo by Brock Scott) of No. 18 San Diego allowed seven hits and struck out eight in a 1-0 complete-game shutout, outdueling Nate Garcia and Santa Clara Friday in a West Coast Conference clash. Matusz improved to 5-1 and lowered his ERA to 1.81, making a first-inning run stand up all night. Kevin Muno bunted for a hit, moved up on a sacrifice by Sean Nicol (2 for 3) and scored on a single by Victor Sanchez (2 for 4). Garcia allowed one run on seven hits with four strikeouts for the Broncos (0-1, 12-9). The Toreros improved to 1-0, 19-8.
No. 19 Nebraska 14, No. 10 Texas 4
In Austin, Texas, Mitch Abeita and Ben Kline each drove in three runs as Nebraska piled up 17 hits against Texas to remain unbeaten in Big 12 play before a crowd of 5,922 at Disch-Falk Field. The Longhorns (4-3, 17-7) opened up a 4-0 lead on Johnny Dorn (3-0) after three innings, but Dorn settled down before Dan Jennings came on to throw four perfect innings with four strikeouts. Meanwhile, the Cornhuskers (6-0-1, 20-3-1) began to produce at the plate, scoring four times apiece in the fifth, seventh and eighth innings. Dan Johnston went 3 for 3 with two runs and two RBI off the bench, and DJ Belfonte and Craig Corriston added two hits and two RBI apiece. Michael Torres drove in two runs for the Longhorns.

Northern Iowa 3, Evansville 0
In Waterloo, Iowa, Nick Kirk recorded the first no-hitter in 13 years for the Panthers as Northern Iowa blanked Evansville in the Missouri Valley Conference opener for both teams. Kirk (3-3) fanned a career-high 15 and allowed two baserunners, one on a walk and one on an error. He retired the game's first 10 hitters, including a string of eight straight strikeouts against the Purple Aces (1-3, 2-19). Brett Featherston's solo shot in the sixth put the Panthers (1-0, 11-9) on the board. Derec Manrique added a two-run homer in the seventh.
No. 1 Arizona State 16, USC 5
In Tempe, Ariz., Petey Paramore went 4 for 5 with three runs and two RBI, and Kiel Roling added two hits and a three-run triple as Arizona State stomped USC in the Pac-10. Ike Davis and Rocky Laguna each contributed two hits and two RBI as the Sun Devils (1-0, 23-1) opened up an 8-0 lead after four and made it 16-3 with an eight-run fifth. Grant Green went 3 for 5 with two RBI for the Trojans (2-2, 11-12).

No. 2 Miami (Fla.) 7, Duke 5 (10)
In Durham, N.C., Dennis Raben's two-run double in the top of the 10th lifted Miami over Duke in the opener of their ACC series at Jack Coombs Field. Carlos Gutierrez earned his sixth save. Raben had two hits and four RBI for the Hurricanes (8-1, 20-2). Gabriel Saade had a two-run single in a five-run fifth for the Blue Devils (4-6, 21-6).
No. 3 Florida State 21, Wake Forest 2
In Winston-Salem, N.C., Buster Posey hit two of Florida State's five home runs, going 3 for 6 with five runs and three RBI, as the Seminoles set season-high marks with 21 runs and 21 hits in a rout of Wake Forest. Jason Stidham and Dennis Guinn also homered and drove in three runs for the Seminoles (10-0, 22-2). Matt Fairel worked six innings to improve to 6-0. Wake fell to 4-5, 11-12.

No. 4 North Carolina 5, NC State 2
In Cary, N.C., Chad Flack's three-run homer capped a five-run fifth as North Carolina got by NC State in the opener of their ACC set. Tim Fedroff had three hits for the Tar Heels (8-2, 21-4). Jeremy Synan had a two-run single in the second for the Wolfpack (4-5, 14-9).
No. 15 California 5, No. 5 Long Beach State 1
In Berkeley, Calif., Tyson Ross was masterful over eight scoreless innings, allowing five hits and striking out six, and Dylan Tonneson and Blake Smith homered as California knocked off Long Beach State. Ross improved to 4-0 by out-pitching Long Beach's Andrew Liebel and made an early 5-0 lead hold. Josh Satin (3 for 3, RBI) extended his school-record hitting streak to 26 games and started a three-run fifth for the Bears (16-5-1). Jeff Kobernus, Michael Brady and Rich Gorman contributed RBI in the frame. Long Beach fell to 17-5.

No. 6 Missouri 1, Texas Tech 0
In Lubbock, Texas, Aaron Crow extended his scoreless-innings streak to 33.2 innings by firing eight innings with two hits and nine strikeouts as Missouri blanked Texas Tech in the Big 12. The Tigers (4-0, 20-3) have yet to allow an earned run in Big 12 play. Jacob Priday drove in the lone run with a single in the first inning, and Crow (6-0) made it stick. Nathan Karns worked into the sixth for the Red Raiders (2-5, 12-12), allowing six hits and one earned run.
No. 7 UC Irvine 12, Cal Poly 4
In San Luis Obispo, Calif., Scott Gorgen fanned 12 in eight innings as UC Irvine topped Cal Poly in the Big West opener for both clubs. Gorgen (5-1) allowed six hits, one walk and four runs. Brock Bardeen and Tyler Hoechlin each drove in three for the Anteaters (1-0, 18-2). Luke Yoder and Wes Dorrell homered for the Mustangs (0-1, 8-13).
UCLA 4, No. 8 Arizona 3 (10)
In Tucson, Ariz., eighth-ranked Arizona has seen enough of Jermaine Curtis. Curtis went 4 for 5 and tripled and scored the game-winning run on Alden Carrithers' sacrifice fly in the top of the 10th as UCLA knocked off the Wildcats. Curtis is now 13 for 27 with seven runs and 10 RBI in seven games against Arizona (1-3, 13-8), which lost its fifth straight game. Matt Drummond picked up the win with 2.1 innings of relief, while Jason Stoffel suffered his first loss as a Wildcat. The Bruins improved to 1-0, 11-9.
Southern Miss 1, No. 12 Rice 0
In Houston, Barry Bowden outdueled Ryan Berry as Southern Miss nipped Rice in the opener of their Conference USA series at Reckling Park. Bowden (5-1) went 8.2 innings with four hits and 10 strikeouts. Tyler Conn struck out pinch-hitter Derek Myers with the tying run on second to earn his seventh save. Trey Sutton homered in the first for the Golden Eagles (3-1, 16-7). Berry fanned a career-high 13 in eight innings with three walks and four hits for the Owls (3-1, 18-8).
No. 13 Kentucky 15, No. 9 South Carolina 3
In Columbia, S.C., Marcus Nidiffer had two of the Wildcats' five home runs as Kentucky spanked South Carolina in front of 5,729 fans at Sarge Frye Field in the opener of their SEC series. Chris Wade had a grand slam to cap a six-run first for the Wildcats (5-2, 22-2). Phil Disher had a two-run single in the fifth for the Gamecocks (4-3, 16-7).
No. 14 Wichita State 14, North Dakota State 3
In Wichita, Kan., Ryan Jones had four hits and four RBI to lead Wichita State past North Dakota State. Tyler Weber had three hits and four RBI for the Shockers (17-3). WSU scored three in the first and five in the second to take control. NDSU (6-8) scored its three runs in the fifth.
No. 16 Virginia 10, Virginia Tech 1
In Charlottesville, Va., Jacob Thompson went the distance as Virginia stopped Virginia Tech in front of a season-high crowd of 2,157 at Davenport. Thompson (4-0) allowed seven hits with no walks and five strikeouts. David Adams homered in the first for the Cavaliers (6-4, 21-5). The Hokies (0-10, 8-16) scored in the fourth on an RBI groundout by Anthony Sosnoskie. Jarrett Parker added a two-run double in the seventh for the Cavs.
Alabama 6, No. 17 Ole Miss 5
In Tuscaloosa, Ala., Matt Bentley belted two home runs to lead Alabama past Ole Miss in the lid-lifter of their SEC series. Bentley went deep in the sixth for a 5-3 lead for the Crimson Tide (3-4, 14-11). His second blast in the eighth gave Alabama a 6-5 advantage. The Rebels (3-4, 15-10) loaded the bases in the top of the ninth with one out before a foul out and a ground out ended the contest. Sean Stuyverson had a two-run homer in the second for Ole Miss.
Washington State 10, No. 20 Stanford 4
In Stanford, Calif., Ross Humes took a no-hitter into the eighth, and Greg Lagreid hit his first homer and drove in four as Washington State topped Stanford in the Pac-10. Humes, making only his third start, had allowed only one base runner before Sean Ratlitt homered with one out in the eighth. Humes (2-0) allowed three hits and two earned runs with three strikeouts in his gem. Jared Prince (2 for 4) homered, scored three and drove in two for the Cougars (2-2, 16-7). Jeremy Bleich started and allowed one hit in three innings before leaving with an injury for the Cardinal (0-1, 10-7).
Cal State Fullerton 7, UC Riverside 6 (16)
In Fullerton, Calif., Erik Komatsu had a two-run triple with two outs in the bottom of the ninth to cap a five-run rally to tie the game and scored after a one-out triple in the 16th as Cal State Fullerton edged UC Riverside in the Big West opener for both teams. The Titans (1-0, 14-8) won their fifth straight in the longest game in the 17-year history of Goodwin Field. Aaron Wible had a three-run homer in the third that gave the Highlanders (0-1, 6-13) a 5-0 lead. Khris Davis had a three-run homer in the ninth for Fullerton. Adam Jorgenson (1-0) pitched 6.2 innings of relief with two hits and a career-high 14 strikeouts. UCR hitters fanned 25 times.