March 28, 2008
Rankings are from CBI Composite Poll
Around the Bases
Long Island blanks Maryland-Eastern Shore
No. 18 San Diego handles Harvard; Oral Roberts bounces BYU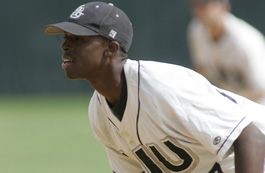 In Brooklyn, N.Y., Chris Kievit had four hits, three runs and four RBI to lead Long Island past Maryland-Eastern Shore 11-0 Thursday at LIU Field. Gerard Tingos had a grand slam in the second for the Blackbirds (8-12). Kievit's two-run homer highlighted a three-run third for LIU. James Jones (right) had two hits, two steals, one run and one RBI for the Blackbirds. UMES fell to 4-22.
No. 18 San Diego 14, Harvard 4
In San Diego, James Meador had three hits and two RBI as San Diego defeated Harvard at Cunningham Stadium. Harry Douglas had a two-run single in the first and Dan Zailskas added a run-scoring single in the third as the Crimson (1-14) built a 3-0 lead. Meador had an RBI single in a seven-run third for the Toreros (18-8). Meador also had a run-scoring single in a four-run fourth as USD built an 11-4 lead. Kevin Hansen had two hits and two RBI for the Toreros.
Oral Roberts 13, BYU 9
In Tulsa, Okla., Kelly Minissale had the game-winning base hit and Ben Petralli smacked a three-run homer for insurance as Oral Roberts rallied to beat BYU at J.L. Johnson Stadium. Jonathan Cluff's three-run double highlighted a five-run eighth as the Cougars (12-13) took a 9-8 lead. David Genao homered in the bottom of the eighth for the Golden Eagles (14-6) to tie the game at 9-9. After back-to-back walks, Minissale's base hit gave ORU a 10-9 lead. Petralli then went deep to complete the scoring.
Florida A&M 5, Albany State 2
In Albany, Ga., Darryl Evans had three hits and two runs to lead Florida A&M past Albany State at Golden Rams Park. Tim Jones homered in the second for the Rattlers (4-12). Chris Justin scored on a wild pitch in the third to give FAMU a 2-0 lead. B.J. Stewart had an RBI single in the fourth for the Golden Rams (25-11) to cut the lead in half. Jared Jeffries had a run-scoring single in the fifth and Jared Grace had an RBI base hit in the sixth as the Rattlers built a 4-1 lead. Deontate Hahn had an RBI single for ASU in the seventh. Justin's sac bunt in the eighth brought in the final run for FAMU. Anthony Espin (2-3) went the distance for the Rattlers with seven hits, one earned run and four strikeouts.
George Mason 6, Brown 5
In Fairfax, Va., Scott Krieger homered to lead off the bottom of the ninth as George Mason edged Brown at Hap Spuhler Field. The Bears (6-8) scored a pair in the top of the ninth that knotted the score at 5-5. Nick Greskoff homered in the fifth for Brown. Chris Henderson's RBI single capped a four-run second for the Patriots (10-11).
Dallas Baptist 20, Houston Baptist 6
In Dallas, Ryan Goins had three hits, including two homers, three runs and four RBI as Dallas Baptist outscored Houston Baptist. Goins' sacrifice fly capped a four-run first for the Patriots (14-8). Goins hit a solo shot in the third and a two-run bomb in the sixth for DBU. Evan Bigley also homered twice for the Patriots with seven RBI. HBU fell to 11-14.