March 25, 2008
Rankings are from CBI Composite Poll
Around the Bases
Romanski tosses no-hitter for No. 18 USD vs. Harvard
No. 5 LBSU blanks Harvard on one hit; No. 10 Texas wins in 10 over ORU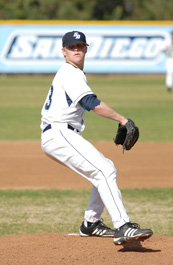 In San Diego, junior left-hander Josh Romanski (right, photo by Brock Scott) pitched his first collegiate no-hitter as No. 18 San Diego blanked Harvard 12-0 Monday afternoon at Cunningham Stadium. Romanski (4-0) faced one batter over the minimum. He retired the first 13 hitters before hitting Matt Kramer in the top of the fifth. Romanski then set down the final 14 members of the Crimson (1-10) to finish the game. Romanski recorded a season-high eight strikeouts and also homered in the seventh. The Toreros (17-7) scored two in the first and four in the third to take control. Zach Walters had a two-run single to cap the rally in the third. After putting up five in the sixth, Romanski went deep in the seventh to complete the scoring. It was the sixth no-hitter in school history and the first since March 23, 1996, when Bart Miadich no-hit Gonzaga.
No. 5 Long Beach State 15, Harvard 0
In Long Beach, Calif., Jason Corder had three hits and three RBI to lead Long Beach State past Harvard. Shane Peterson had three hits and drove in two for the Dirtbags (17-3). LBSU scored two in the first and eight in the third for a 10-0 lead. Brett Lorin (1-0) allowed one hit in five innings with six strikeouts to earn the victory. The Crimson fell to 1-11.
No. 10 Texas 5, Oral Roberts 4
In Austin, Texas, pinch-hitter Russell Moldenhauer beat out an infield hit with the bases full and two outs in the bottom of the 10th to give Texas the win over Oral Roberts at UFCU Disch-Falk Field. The Longhorns (17-6) tied the game in the bottom of the seventh on a homer by Kevin Keyes. Jordan Danks belted a three-run homer in the first to give UT the early lead. The Golden Eagles (13-6) tallied one in the third and three in the seventh for a 4-3 advantage.
No. 20 Stanford 14, Pacific 0
In Stockton, Calif., Jeffrey Inman and Max Fearnow combined on the five-hit shutout as Stanford blanked Pacific in the rubber game of their three-game set. Inman (2-0) went six innings with three hits, no walks and eight strikeouts. Fearnow allowed two hits over the final three innings with three walks and two strikeouts to earn his first save. Brent Milleville had two homers and drove in four to lead the offense for the Cardinal (10-5). Stanford scored five in the top of the first to take control. Adam Ching had three hits for the Tigers (5-16).