March 24, 2008
Rankings are from CBI Composite Poll
Around the Bases
Fedroff knocks in six as No. 3 UNC wallops Maryland
No. 1 Arizona State stops No. 8 UCI; No. 9 Missouri sweeps No. 15 Baylor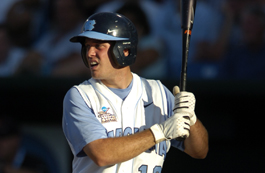 In College Park, Md., Tim Fedroff (right) smacked a grand slam and knocked in six as No. 3 North Carolina walloped Maryland 19-1 Sunday at Shipley Field to win their ACC series. Chad Flack also hit a grand slam and drove in five for the Tar Heels (7-2, 18-4). Kyle Shelton had four hits and three RBI for UNC. Chad Durakis had a sacrifice fly in the bottom of the sixth for the lone run for the Terrapins (2-7, 11-11).
No. 1 Arizona State 11, No. 8 UC Irvine 3
In Tempe, Ariz., Mike Leake went the distance with nine strikeouts as Arizona State stopped UC Irvine in the finale of the Bob Schaefer Memorial Invitational in front of 3,375 fans at Winkles Field-Packard Stadium at Brock Ballpark. Leake (5-0) allowed seven hits and three earned runs with no walks. Ike Davis had four hits, including a home run, and three RBI for the Sun Devils (22-1). A two-run homer by Davis in the third gave ASU the lead for good. The Sun Devils blew it open with a four-run seventh, capped by a two-run single by Marcel Champagnie. Francis Larson had a two-run homer in the ninth for the Anteaters (16-2).
No. 9 Missouri 12, No. 15 Baylor 2
In Columbia, Mo., Kyle Gibson struck out nine in seven innings as Missouri run-ruled Baylor to complete a Big 12 sweep at Taylor Stadium. The Tigers (3-0, 18-2) outscored the Bears (2-4, 13-7) 22-2 in their three-game set, giving Missouri its all-time best record after 20 games. Gibson (5-0) allowed four hits and two unearned runs. Jacob Priday and Lee Fischer each had two hits and three RBI for the Tigers.
No. 4 Florida State 18, Virginia Tech 12
In Blacksburg, Va., Florida State exploded for 18 runs on a season-high 20 hits to complete a three-game ACC sweep of Virginia Tech. The Hokies (0-9, 7-15) scored multiple runs in each of the first four innings to build a 10-4 lead before the Seminoles (9-0, 19-2) came storming back with three in the fifth and six in the sixth. Buster Posey, Dennis Guinn and Tony Delmonico each had four hits, with Guinn hitting a pair of homers and driving in five. Delmonico had three RBI and hit his fifth homer.

No. 5 Miami (Fla.) 23, Wake Forest 2
In Coral Gables, Fla., Chris Hernandez allowed one hit over six innings with eight strikeouts as Miami thumped Wake Forest at Mark Light Field to win their ACC series. The Hurricanes (7-1, 17-2) scored nine in the third to take a 15-2 lead against the Demon Deacons (4-4, 11-9). Ryan Perry hit a grand slam in a six-run seventh. The third game of the series was called due to lightning and rain with the Hurricanes leading 9-1 in the bottom of the fourth.
Alabama 10, No. 7 Vanderbilt 3
In Tuscaloosa, Ala., Robert Phares fanned five in 7.2 innings as Alabama won the rubber game of their SEC series with Vanderbilt at Sewell-Thomas Stadium. Phares (1-1) allowed three runs with four hits and one walk in his first SEC start. Ryan Flaherty homered in the first for the Commodores (3-3, 14-6). The Crimson Tide (2-4, 11-11) answered with four in the bottom of the frame, capped by a three-run homer by Kent Matthes. Alex Avila smacked his seventh homer in the third for Alabama.
No. 10 Kentucky 9, Auburn 8
In Auburn, Ala., Kentucky held off Auburn to avoid an SEC sweep. The Wildcats (4-2, 20-2) started quickly, scoring in each of the first four innings and building a 9-2 lead entering the seventh. All but one Kentucky starter recorded at least on hit, and seven different players drove in runs. However, Auburn (2-4, 14-9) pushed five across in the seventh, keyed by a Brian Fletcher three-run homer and a Matt Hall two-run triple. However, Brock Baber came on in relief for Kentucky and put out the fire, allowing just one hit and an unearned run while recording the final seven outs to preserve the win.

No. 11 South Carolina 10, Mississippi State 3
In Columbia, S.C., South Carolina cruised to an SEC sweep of Mississippi State. Justin Smoak drove in a pair in the first with a double, then Phil Disher hit a grand slam in the third as the Gamecocks (4-2, 15-5) built a 7-0 lead. That proved to be plenty for starter Blake Cooper. The right-hander pitched eight innings, allowing three runs on ten hits and two walks while striking out three Bulldogs (1-5, 9-12). He improves to 3-2.

Florida 10, No. 12 Ole Miss 2
In Oxford, Miss., Tommy Toledo allowed one run over seven innings as Florida won the rubber game of its SEC series with Ole Miss. Toledo raised his record to 4-0 for the Gators (5-1, 17-4). Brandon McArthur had an RBI double and scored in a four-run second for Florida. Matt Smith had a run-scoring single in the fourth for the Rebels (3-3, 15-8). Josh Adams blasted a three-run homer in the fifth to give the visitors a 7-1 advantage.
No. 14 Rice 7, Marshall 1
In Charleston, W. Va., Rice completed a Conference USA sweep of Marshall behind starter Chris Kelley. Kelly pitched 7.1 innings, allowing seven hits and a single unearned run while striking out five. J.P. Padron had a pair of RBI and Aaron Luna was 2 for 5 with an RBI. The Owls (3-0, 17-6) walked seven times against the Thundering Herd (0-3, 8-11).

No. 18 Wichita State 7, Illinois State 2
In Normal, Ill., Anthony Capra struck out 12 in six hitless innings as Wichita State completed a three-game Missouri Valley Conference sweep of Illinois State. Ryan Jones and Conor Gillaspie each had three hits for the Shockers (3-0, 14-3). Gillaspie had a homer in the fifth, two runs and three RBI. The Redbirds (0-3, 9-8) scored a pair in the bottom of the seventh to pull to within one, but WSU added four in the top of the eighth to pull away.
No. 20 Virginia 8, Boston College 6
In Charlottesville, Va., Virginia completed an ACC sweep of Boston College, their seventeenth consecutive home victory. Jeremy Farrell hit a grand slam as part of a five-run fifth inning and Dan Grovatt went 3 for 3 for the Cavaliers (5-4, 19-9). Matt Packer kept the Eagles (2-7, 9-11) off the board with three scoreless innings of relief to earn his third win.