March 23, 2008
Rankings are from CBI Composite Poll
No. 6 Long Beach State 3-10, No. 16 UCLA 3-3
Around the Bases
No. 1 Arizona State sweeps Florida International
USC blanks No. 2 Arizona again; No. 3 North Carolina thumps Maryland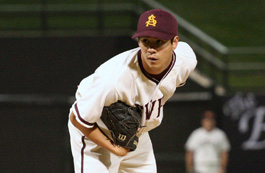 In Tempe, Ariz., Brett Wallace had four hits, including his ninth home run, and Ike Davis earned two saves as top-ranked Arizona State swept a doubleheader from Florida International Saturday at the Bob Schaefer Memorial Tournament by the scores of 10-5 and 8-4. Wallace had two hits in the nightcap, including a two-run shot in the third. Kiel Roling also belted a two-run homer in the third for a 6-0 lead for the Sun Devils (21-1). Josh Satow (3-0) (right) fanned six in six innings for ASU. Jason Kipnis hit a two-run homer in the seventh inning of the opener to snap a 5-5 tie with FIU (9-15).
USC 5, No. 2 Arizona 0
In Los Angeles, Ryan Cook tossed a three-hit shutout as USC recorded its second straight shutout against Arizona at Dedeaux Field to claim the Pac-10 series. Cook (3-1) walked one and struck out five. Roberto Lopez had four hits for the Trojans (2-1, 11-9). USC scored once in the fourth and three in the fifth to take control against the Wildcats (1-2, 13-5).
No. 3 North Carolina 14, Maryland 1
In College Park, Md., Dustin Ackley homered and drove in four as North Carolina mauled Maryland at Shipley Field to even their ACC series. Ackley had a two-run homer in the third and a two-run double in the eighth. Seth Williams also went deep with three runs and three RBI for the Tar Heels (6-2, 17-4). Adam Warren (4-0) fanned seven in six innings to raise his career record to 17-0. Steve Braun and Gerry Spessard each had two hits for the Terrapins (2-6, 11-10).
No. 4 Florida State 12, Virginia Tech 11
In Blacksburg, Va. Florida State remained perfect in ACC play by holding off Virginia Tech. The Hokies (0-8, 7-14) held a 7-4 lead going into the sixth before the Seminoles (8-0, 18-2) erupted for eight runs. Jack Posey hit a two-run double and Tony Delmonico smacked a three-run homer. Delmonico was 2 for 4 with the three RBI. Dennis Guinn was 3 for 5 with four RBI for the Seminoles. The Hokies rallied for three runs in the ninth to draw within one when Ty Hohman delivered a two-run single followed by an RBI knock from Sean O'Brien. However, Buster Posey came in and shut the door for Florida State, recording his third save. Each of the first five hitters in the Virginia Tech order had at least two hits, with Hohman driving in three and Klint Reed a pair.
Wake Forest at No. 5 Miami
In Coral Gables, Fla., the second game of a three-game ACC series was postponed due to inclement weather in South Florida. The teams will play a doubleheader on Sunday.

Alabama 9, No. 7 Vanderbilt 7
In Tuscaloosa, Ala., David Macias slugged a career-high two homers in the Tide's SEC win over Vanderbilt to end Alabama's six-game losing streak. The Commodores (3-2, 14-5) plated two unearned runs early in the game, only to see Alabama (1-4, 10-11) tie the game in the second. Vandy took back the lead, but the Tide to rally for four to regain the lead. Josh Copeland recorded the save, pitching two shutout innings.

No. 8 UC Irvine 9, Northern Colorado 6
In Tempe, Ariz., Jeff Cusick went 5 for 5 with two doubles and a triple as UC Irvine outscored Northern Colorado at the Bob Schaefer Memorial Tournament. Cusick had RBI singles in the first and sixth for the Anteaters (16-1). Ryan Fisher had two hits, two runs and two RBI for UCI. Chad Murray had two-run singles in the first and fifth for the Bears (6-15).
No. 9 Missouri 3, No. 15 Baylor 0
In Columbia, Mo., Ian Berger allowed one hit in seven innings as Missouri blanked Baylor for the second straight day in Big 12 play. Berger (3-0) lowered his ERA to 0.30. Nick Tepesch pitched two hitless innings to earn his third save. Jacob Priday and Aaron Senne had RBI singles in the first for the Tigers (2-0, 17-2). Greg Folgia added an RBI double in the second. Shaver Hansen had a first-inning double for the Bears (2-3, 13-6), their lone hit of the contest.
Auburn 7, No. 10 Kentucky 5
In Auburn, Ala., the previously unbeaten Kentucky Wildcats dropped their second game in a row against Auburn. The Tigers (2-3, 14-8) scored three in the fifth and sixth innings to secure the victory. In the fifth, Joseph Sanders hit a three-run double and in the sixth he hit an RBI single after Hunter Morris had driven in a pair. Auburn starter Corey Luckie shook off a four-run fifth by the Wildcats (3-2, 19-2) to pitch eight innings and earn the victory. He allowed seven hits and two walks while striking out five. Troy Frazier knocked a three-run homer in the fifth for UK as part of a 2-for-3 day.
No. 11 South Carolina 4, Mississippi State 1
In Columbia, S.C., South Carolina won its second SEC game in as many days against Mississippi State. Will Atwood pitched seven strong innings for the Gamecocks (3-2, 14-5), allowing one run on four hits while striking out five. Justin Smoak hit a solo home run, his fifth, in the seventh that turned out to be the winning run. Reese Havens knocked in two later in the inning to provide insurance. Brandon Todd came on to pitch a pair of no-hit innings to close out the game against the Bulldogs (1-4, 9-11).
Florida 6, No. 12 Ole Miss 4
In Oxford, Miss., Jonathan Pigott had a two-run double in a four-run first as Florida evened its SEC series with Ole Miss at Oxford-University Stadium at Swayze Field. Matt Smith had a two-run homer in the bottom of the fifth for the Rebels (3-2, 15-7) to make it 5-3. Ole Miss tried to rally in the bottom of the ninth, but Kyle Mullaney induced a game-ending double play for the Gators (4-1, 16-4).
No. 13 Texas 4, Texas Tech 3
In Lubbock, Texas, Brandon Belt and Preston Clark had two-run homers in the top of the first as Texas nipped Texas Tech at Dan Law Field. Riley Boening (1-0) made it stand up as he allowed two runs on eight hits with one walk for the Longhorns (4-2, 16-6). The Red Raiders (2-4, 11-10) scored a pair in the second and one in the eighth.
No. 14 Rice 13, Marshall 9
In Charleston, W. Va., Rice overcame an eight-run second inning by Marshall to earn the Conference USA victory. The Thundering Herd (0-2, 8-10) sent 13 hitters to the plate in the second, recording seven hits. However, Rice (2-0, 16-6) struck back with four in the fourth and three in the fifth to reclaim the lead. Leadoff man Jared Gayhart was 4 for 6 for the Owls. He drove in six with three doubles and his third homer. Diego Seastrunk and Jimmy Comerota also had a pair of RBI each. Adam Yeager, Tommy Johnson and Kenny Soccorro each had two RBI for Marshall.
Washington State 5, No. 17 California 4
In Pullman, Wash., Jim Murphy walked and scored on a balk in the 10th as Washington State edged California in Pac-10 play. The Cougars (1-2, 14-7) took a 4-3 lead in the fourth on a two-run single by Greg Lagreid. The Golden Bears (2-1, 15-4-1) tied it in the seventh on an RBI single by Josh Satin, who also homered in the second.
No. 18 Wichita State 12-6, Illinois State 1-4
In Normal, Ill., Andy Dirks and Tyler Weber homered in the opener, and Cody Lassley had a three-run double in the nightcap as Wichita State swept a Missouri Valley Conference doubleheader at Illinois State. Weber went deep in the second and Dirks' two-run shot in the third ignited a five-run rally for the Shockers (2-0, 13-3). Rob Musgrave went the distance with three hits, one walk and eight strikeouts in seven innings. In the nightcap, Lassley's bases-clearing double in the sixth gave the Shockers a 5-0 lead. The Redbirds (0-2, 9-7) scored two each in the seventh and eighth to make it close.
No. 19 Stanford 7, Pacific 3
In Stockton, Calif., Erik Davis tied his career-high with 10 strikeouts in seven innings to lead Stanford to the victory over Pacific at Klein Family Field. Stanford (9-5) head coach Mark Marquess moved to within six career victories of 1300, and is now on the Top 10 all-time Division I win list. The Tigers fell to 5-15.
No. 20 Virginia 5, Boston College 4
In Charlottesville, Va., Virginia got back to .500 in conference play with an ACC victory against Boston College in extra innings. BC (2-6, 9-10) took the lead in the ninth on a single by Tony Sanchez, but Virginia (4-4, 18-4) responded in the bottom of the inning with a two-out single by Dan Grovatt. The Cavaliers won the game in the tenth on a Jarret Parker single. Pat McAnaney was excellent again for Virginia, throwing 6.2 innings and allowing just six hits and a single earned run while striking out eight. Eagles' starter Dan Houston went eight innings, holding Virginia to three runs on 10 hits and four walks while striking out seven.