March 22, 2008
Rankings are from CBI Composite Poll
No. 6 Long Beach State 13, No. 16 UCLA 3
Around the Bases
Crow fans 10 as No. 9 Missouri blanked No. 15 Baylor
Northern Colorado stops No. 1 ASU; No. 2 Arizona splits with USC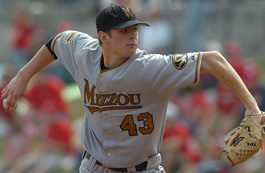 In Columbia, Mo., Aaron Crow (left) tossed a three-hit shutout as No. 9 Missouri blanked No. 15 Baylor 7-0 Friday in the opener of their Big 12 series at Taylor Stadium. Crow (5-0) struck out 10, including the final five Bears (2-2, 13-5). With his second straight shutout, Crow lowered his ERA to 1.03. The Tigers (1-0, 16-2) score four in the first to take control. Aaron Senne homered in the third and had a two-run single in the fourth for Mizzou.
Northern Colorado 6, No. 1 Arizona State 3
In Tempe, Ariz., Kevin Sandberg had a pair of RBI doubles to lead Northern Colorado past Arizona State in the Bob Schaefer Memorial Tournament, snapping the 19-game win streak of the Sun Devils (19-1). Jason Kipnis had an RBI double and scored in the first as ASU took an early 2-0 lead. The Bears (6-14) answered with four in the third, but a homer by Kiel Roling in the fourth pulled the Sun Devils to within one. Sandberg's RBI doubles in the fifth and seventh pushed UNC's lead to 6-3. ASU loaded the bases in the seventh, eighth and ninth innings, but could not score.
No. 2 Arizona 10-0, USC 2-5
In Los Angeles, Dillon Baird tied a school record with three home runs as Arizona defeated USC at Dedeaux Field in the first game of their Pac-10 doubleheader. The Trojans (1-1, 10-9) rebounded in the nightcap by blanking the Wildcats (1-1, 13-4). Baird had two-run homers in the first, sixth and ninth innings in Game 1. Jon Gaston and T.J. Steele also went deep for the Wildcats. Hector Rabago homered in the second for the Trojans. Preston Guilmet (3-1) worked seven innings for UA with seven hits, two runs, two walks and four strikeouts. In Game 2, Tommy Milone (3-1) allowed two hits and fanned eight in seven innings. Brad Boxberger and Robert Stock each pitched a scoreless inning in relief for USC.
Wildcats with three homers in a game
Dennis Haines at UTEP 4/7/1972
Ron Hassey vs. Weber State 3/20/1974
Erik Torres at Washington 4/8/2000
Shelley Duncan vs. Utah 2/23/2001
Brad Glenn vs. Utah Valley 2/7/2007
Dillon Baird at USC 3/21/2008
Maryland 4, No. 3 North Carolina 2
In College Park, Md., Scott Swinson struck out seven in eight innings as Maryland upset North Carolina at Shipley Field in the opener of their ACC series. Swinson allowed two runs on nine hits. Mike Murphy's two-run homer capped a three-run fifth for the Terrapins (2-5, 11-9). The Tar Heels (5-2, 16-4) answered with a pair in the top of the sixth on a homer by Tim Federowicz and an RBI single by Seth Williams. Maryland completed the scoring in the bottom of the sixth on a sacrifice fly by Nick Jowers.
No. 5 Miami (Fla.) 14, Wake Forest 4
In Coral Gables, Fla., Jemile Weeks hit a three-run homer to highlight a 3-for-6 performance in Miami's defeat of Wake Forest at Mark Light Field in the ACC contest. The Hurricanes (4-3, 11-8) had six players homer in support of LHP Eric Erikson's fifth straight win. Weldon Woodall and Dustin Hood both recorded multi-hit contests for the Demon Deacons (6-1, 16-2).

No. 7 Vanderbilt 2, Alabama 1
In Tuscaloosa, Ala., LHP Mike Minor dominated the Crimson Tide as Vanderbilt edged Alabama in SEC action at Sewell Thomas Stadium. The southpaw struck out a career-high 12 and surrendered just one earned on eight hits in his second complete game. Ross Wilson drove in the lone run for Alabama (0-4, 9-11), Shea Robin and Parker Hanks scored for the Commodores (3-1, 14-4).

No. 8 UC Irvine 5, Florida International 2
In Tempe, Ariz., Jeff Cusick went 3 for 4 with one RBI to lead UC Irvine past Florida International at the Bob Schaefer Memorial Tournament. FIU (9-13) scored in the first on an RBI single by Jorge Castillo. Cusick's base hit in the fourth tied it and a two-run homer by Brock Bardeen made it 3-1 in favor of the Anteaters (15-1), who won their seventh straight. Scott Gorgen (4-1) fanned nine in earning the win. Eric Pettis worked the final 1.2 innings for his fourth save.
Auburn 2, No. 10 Kentucky 0
In Auburn, Ala., Grant Dayton, Evan Crawford and Bryan Woodall combined to blank the SEC's highest-scoring offense as Auburn ended the 19-game winning streak of Kentucky. Dayton (2-1) pitched six innings with six hits, one walk and five strikeouts. Woodall got the final two outs in the eighth and struck out three in the ninth to earn his fifth save. Mike Bianucci had three hits for the Tigers (1-3, 13-8), including an RBI single in the first. Matt Hall had a run-scoring double in the fourth to complete the scoring against the Wildcats (3-1, 19-1).
No. 12 Ole Miss 5, Florida 4
In Oxford, Miss., the Rebels scored three in the bottom of the ninth as Ole Miss nipped Florida in the opener of their SEC series. Logan Power started the winning rally with a double and scored on Matt Smith's base hit. Michael Guerrero doubled, moving Smith to third. Zach Miller was intentionally walked to load the bases. Tim Ferguson singled to plate Smith with the tying run. Guerrero later scored on an error to give the win to the Rebels (3-1, 15-6). Matt den Dekker's two-run single highlighted a four-run second for the Gators (3-1, 15-4). Smith homered in the seventh for Ole Miss.
Texas Tech 7, No. 13 Texas 5
In Lubbock, Texas, Tanner Rindels had three hits and three RBI as Texas Tech evened their Big 12 series with Texas. Larry Hays earned his 800th victory as head coach of the Red Raiders (2-3, 11-9). The Longhorns (3-2, 15-6) scored single runs in the first, second and fifth innings. Rindels had a two-run homer in the bottom of the fifth to get Tech on the board. Chris Hall's run-scoring single later in the inning knotted the score at 3-3. Texas regained the lead in the sixth before a walk and a hit batsman with the bases loaded gave the Red Raiders the lead for good in the bottom of the frame.
No. 17 California 7, Washington State 4
In Pullman, Wash., David Cooper and Blake Smith homered to lead California to a Pac-10 series victory over Washington State. Josh Satin got a hit in his 23rd straight game for the Golden Bears (2-0, 15-3-1), tying a school record. Cooper's two-run shot in the fifth was his team-leading ninth, while Smith's two-run blast highlighted a four-run eighth for California. Paul Gran had a two-run homer in the third for the Cougars (0-2, 13-7).
Pacific 10, No. 19 Stanford 6
In Palo Alto, Calif., J.B. Brown drove in three and Joe Oliveira went 2 for 4, scoring twice and driving in one, in Pacific's 10-6 win over Stanford at the Sunken Diamond. Larry Holscher shut out the Cardinal (8-5) for four innings en route to picking up his first win on the season. The Tigers (5-14) had 10 runs on seven hits in their first win over a ranked opponent this season.