March 20, 2008
Rankings are from CBI Composite Poll
Around the Bases
Facchinei fans eight as No. 3 UNC defeated Princeton
No. 5 Miami mauls New Jersey Tech; No. 12 Vanderbilt tops Lipscomb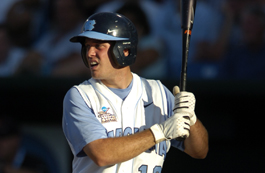 In Cary, N.C., Mike Facchinei fanned eight as No. 3 North Carolina got by Princeton 8-2 Wednesday for its sixth consecutive victory. In 5.1 innings, Facchinei (1-0) allowed three hits and one walk. Chad Flack had two hits for the Tar Heels (16-3), including a two-run homer in the bottom of the seventh that gave UNC a 5-2 lead. Tim Fedroff (right) had three hits, two walks and two runs for the Heels. Tim Federowicz had two sacrifice flies for UNC. Jack Murphy had a two-run homer in the first for the Tigers (6-6).
No. 5 Miami (Fla.) 13, New Jersey Tech 1
In Coral Gables, Fla., Joey Terdoslavich had three hits and three runs as Miami overwhelmed New Jersey Tech at Mark Light Field. Dennis Raben and Yasmani Grandal both went deep for the Hurricanes (15-2). Raben's three-run shot in the first put Miami ahead to stay. Craig Binkiewicz had two hits for the Highlanders (2-12).
No. 7 Vanderbilt 12, Lipscomb 4
In Nashville, Alex Feinberg's three-run double capped a seven-run third as Vanderbilt defeated Lipscomb at Hawking Field. The Bisons (8-9) held a 2-1 lead in the third after a two-run single in the first by Justin Sanders before the eruption by the Commodores (13-4). Brian Harris had a two-run single in the third for Vanderbilt. Jonathan White had two hits and two RBI in the game for the Commodores.
No. 9 Missouri 9, South Dakota State 4
In Columbia, Mo., Kurt Calvert homered twice with three RBI and four runs to lead Missouri past South Dakota State at Taylor Stadium, the 10th-straight win for the Tigers (15-2). Jacob Priday went deep for Missouri in the bottom of the fourth, snapping a 1-1 tie.
No. 12 Ole Miss 12, UALR 5
In Oxford, Miss., Fuller Smith had three hits, two runs and an RBI to lead Ole Miss past UALR. Cody Overbeck hit his sixth homer for the Rebels (14-6). Brad Swiderski's two-run homer highlighted a three-run second for the Trojans (4-13). Ole Miss scored a pair in the bottom of the second and Overbeck's three-run blast in the third gave the Rebels the lead for good.
No. 14 Rice 17, Louisiana-Lafayette 6
In Houston, Jared Gayhart and Chad Mozingo each knocked in four as Rice posted a season-high in runs in its win over Louisiana-Lafayette at Reckling Park. The Owls (14-6) matched a season-high with 17 hits in winning their sixth straight. Scott Hawkins had an RBI single in the top of the first to give the early lead to the Ragin' Cajuns (6-12). Rice answered in the bottom of the frame on a two-run homer by Aaron Luna. ULL responded with a pair in the second, but Gayhart's two-run double keyed a four-run second that gave the Owls the lead for good.
Oklahoma State 22-34, Arkansas-Pine Bluff 8-1
In Stillwater, Okla., Davis Duren had five hits and three RBI in the opener as Oklahoma State swept a doubleheader from Arkansas-Pine Bluff at Allie P. Reynolds Stadium. The win in the nightcap was the 700th at Reynolds Stadium, compiled in 27 seasons. The Cowboys (13-5) set a school record with 31 hits in the second game. Freshman Thomas Belza had one career at bat entering the game, but went 6 for 6 with five RBI and six runs. He had three doubles and one home run. Belza tied the school record for hits in a game.