March 18, 2008
Rankings are from CBI Composite Poll
Around the Bases
Jones uses bat, arm to lead Long Island past Massachusetts
No. 13 Texas tops UTSA; No. 14 Rice completes sweep of Winthrop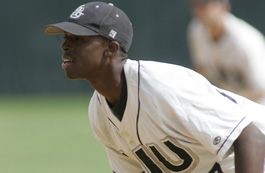 In Palm Beach, Fla., James Jones (right) knocked in the game-winner in the bottom of the sixth and pitched a perfect ninth to earn the save as Long Island defeated New Jersey Tech 4-1 Monday in its first game at the Palm Beach Challenge. Jones' RBI single in the sixth snapped a 1-1 tie. He fanned two of the three hitters he faced in the ninth to record his first save. Eric Hinkle earned the victory in his first collegiate start for the Blackbirds (2-11), going 7.2 innings with six strikeouts. Greg DeSantis had a double and two runs for LIU. Craig Binkiewicz scored the lone run in the first for the Highlanders (2-11).
No. 13 Texas 16, Texas-San Antonio 5
In San Antonio, Preston Clark went 4 for 5 with four runs and five RBI as Texas outscored UTSA in front of 2,211 fans at Wolff Stadium. Clark had two doubles and a triple for the Longhorns (13-5), who scored 11 over the final three innings to blow it open. Tim Palincsar had three hits for the Roadrunners (12-6). Michael Rockett had a two-run double for UTSA.
No. 14 Rice 9, Winthrop 1
In Houston, Rick Hague homered twice and had six RBI to lead Rice to a series sweep over Winthrop. Hague belted a grand slam in the first for the Owls (13-6). That was more that enough for Mike Ojala, who struck out nine in six scoreless innings for Rice. Hague added a two-run shot in the fourth. The Eagles fell to 3-14.
Army 12, Massachusetts 11
In Tampa, Fla., J.P. Polchinski had two hits, three runs and two RBI as Army edged Massachusetts at the New York Yankees minor league complex. The Minutemen (2-4) built an early 8-1 lead before the Black Knights (3-11) fought back. After scoring single runs in the third and fourth, Polchinski's two-run homer ignited a nine-run sixth as Army took a 12-8 lead. Clint Moore's two-run single pulled the Black Knights to within one. Cole White tripled to plate Moore and later scored the tie-breaking run.