March 17, 2008
CBI Live
Vandy Tops USC to Claim Series
By Jimmy Jones
Special to CollegeBaseballInsider.com

NASHVILLE - Ninth-ranked Vanderbilt turned the tables on fourth-ranked South Carolina by pounding a trio of Gamecocks pitchers for 10 runs to back redshirt freshman Caleb Cotham's nine-strikeout effort in his first SEC start. The Commodores' 10-4 win Sunday marked the fourth season in a row that they have won the season series between the two rivals.

Less than 24 hours after playing almost perfect baseball against the Dores, the Gamecocks had a four-error day to go with four hit batsmen after coming into the weekend leading the SEC in fielding.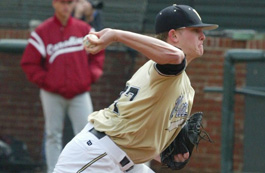 Cotham (3-0) (left, photo by Jimmy Jones) was outstanding for the home team, allowing just two runs (one earned) on five hits in 5.2 innings with nine strikeouts and two walks.

The two teams exchanged runs on wild pitches in the first inning before the offenses shut down. In the fourth, USC (1-2 SEC, 11-5) mounted a scoring threat when James Darnell doubled and Harley Lail was hit by a pitch, before Andrew Crisp bunted them up. Cotham then struck out Phil Disher and Scott Wingo to end the inning and strand the runners in scoring position.

"Caleb did a nice job," Vanderbilt coach Tim Corbin said. "I thought he was aggressive. He got himself out of trouble in the fourth inning [and] that was huge. He got those two strikeouts, which I thought was the turning point in the ball game."

Countered Gamecocks coach Ray Tanner: "We had a chance to go up there and put some pressure on them but we struck out twice to end the inning. That could have been a turning point in that game."

Shea Robin put the Commodores (2-1, 12-4) ahead in the fourth with a RBI single, and Brian Harris followed suit with two-run single. Vandy tacked on another run on an error by Gamecocks centerfielder Whit Merrifield to take a 5-1 lead.

Ryan Flaherty added a RBI single in the fifth after an Alex Feinberg leadoff double for the Commodores. Crisp's RBI single in the top of the sixth made it 6-2.

Hot-hitting sophomore Andrew Giobbi then removed any doubt about the game's outcome with a towering grand slam over the left-field wall.

Gamecocks first baseman Justin Smoak belted his fourth homer off Vanderbilt reliever Brett Jacobson in the ninth to close out the scoring.

Flaherty and Giobbi led VU with two hits, while Darnell led South Carolina with three and seven in the series.

"They just completely outplayed us today," Tanner said. "We did not play well enough to win with four errors and punched out double digit times."