March 15, 2008
Rankings are from CBI Composite Poll
Around the Bases
Flaherty's big night boosts No. 9 Vanderbilt past No. 4 USC
Federowicz drives in six for No. 3 UNC vs. Virginia Tech; No. 1 ASU wins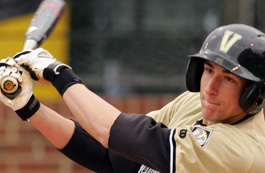 In Nashville, Tenn., Ryan Flaherty (right) homered in the bottom of the ninth to tie it, then singled in the game-winner in the 13th inning as No. 9 Vanderbilt edged No. 4 South Carolina 4-3 in their SEC opener Friday at Hawkins Field. Brian Harris walked, moved to second on David Macias' single and to third on Alex Feinburg's walk. Flaherty, who went 5 for 6 with two runs and two RBI, then singled on a 3-2 count. In the top of the 13th, Dominic de la Osa nailed James Darnell, who was trying to score on Andrew Crisp's single, at the plate to keep the game tied at 3. Mike Minor went 8.2 innings with three earned runs and 10 strikeouts for the Commodores (1-0, 11-3). Mike Cisco tossed six solid innings (two earned runs), and Curtis Johnson was near-flawless with four hits and one run - Flaherty's homer - in five innings for the Gamecocks (0-1, 10-4). Whit Merrifield had two hits and a RBI to pace South Carolina's offense.
No. 3 North Carolina 11, Virginia Tech 1
In Cary, N.C., Tim Federowicz knocked in a career-high six and pitched 1.1 innings of scoreless relief as North Carolina topped Virginia Tech in the opener of their ACC series. Federowicz had a sacrifice fly in the first, a two-run single in the third, a two-run double in the seventh and an RBI double in the eighth for the Tar Heels (3-1, 12-3). Tim Fedroff had three hits for UNC, including his fifth home run. Austin Wates and Anthony Sosnoski each had two hits for the Hokies (0-4, 7-9).
No. 1 Arizona State 15, Troy 9
In Tempe, Ariz., Ryan Sontag drove in three, and Marcel Champagnie went 4 for 5 with three runs and a RBI as ASU toppled Troy. Brett Wallace added three hits and two runs and Jason Kipniks homered for the seventh time and drove in three for the Sun Devils (15-0). The Trojans (12-4) opened up a 6-0 lead in the first inning, but ASU got four back in the second and added seven in the fifth. Bart Pettus went 2 for 4 with two RBI for Troy.
No. 2 Arizona 8, No. 21 Cal State Fullerton 3
In Tucson, Ariz., freshman Bryce Ortega delivered a two-run single in a six-run eighth inning as Arizona rallied to beat Cal State Fullerton. The Titans (8-6) scored three times in the eighth to take a 3-2 lead - and snap the Wildcats' school-record 34.2 straight scoreless innings. Pinch-hitters Jon Wilhite and Matthew Fahey drove in runs off Preston Guilmet (7.2 IP, 4 H, 2 ER, 7 K). Arizona (11-1) tied it at 3 before Ortega, who took over as the starting shortstop five games ago, singled in a pair. Pinch-hitter Rafael Valenzuela later laced a three-run triple.
No. 5 Florida State 8, No. 18 Georgia Tech 7
In Tallahassee, Fla., Ohmed Danesh produced a two-run, bases-loaded single with two outs in the bottom of the ninth as Florida State rallied to beat Georgia Tech in ACC play at Dick Howser Stadium. Trailing 7-6 with two outs in the ninth, Tony Delmonico (2 for 4, 2 R, 2 RBI) singled before Tech closer Chris Hicks walked Dennis Guinn (3 for 3) and Tommy Oravetz, setting the stage for Danesh. The Seminoles (4-0, 14-1) scored three in the first and another in the third to grab an early lead. The Yellow Jackets (3-1, 13-2) scored seven runs in five straight innings, starting in the fourth.
Brad Feltes had a pair of RBI for Tech.
No. 6 Miami 12, NC State 5
In Raleigh, N.C., Jemile Weeks went 4 for 5 with three runs and tied a career high with five RBI as Miami opened up a 7-0 lead in the first three innings and never looked back in an ACC win over NC State at Doak Field. Yonder Alonso, Jason Hagerty and Ryan Jackson each delivered two RBI in support of Eric Erickson, who allowed one earned run in six innings for the Hurricanes (4-0, 12-1). Jeremy Synan had two RBI for the Wolfpack (2-2, 9-4).
No. 8 Ole Miss 15, Mississippi State 6
In Starkville, Miss., Brett Basham and Logan Power each had four hits as Ole Miss pounded Mississippi State in the SEC opener for both teams. Lance Lynn (4-0) tossed six scoreless innings to post the win for the Rebels (1-0, 12-4). He allowed four hits and one walk with seven strikeouts. After Ole Miss scored one in the first and seven in the second, Sean Stuyverson had a two-run homer in the third that pushed the lead to 10-0. Connor Powers had a three-run homer in the ninth for the Bulldogs (0-1, 7-8).
Duke 9, No. 16 Virginia 8
In Durham, N.C., Jake Lemmerman's RBI double with two outs in the bottom of the eighth capped a three-run rally that carried Duke past Virginia in the opener of their ACC series. Lemmerman was 2 for 3 with a double, a triple and three RBI for the Blue Devils (2-2, 15-2). Duke roughed up Cavalier ace Jacob Thompson for six runs in three innings. Tyler Cannon had three hits and two runs for Virginia (1-3, 13-3).
No. 19 California 10, Loyola Marymount 4
In Berkeley, Calif., Brett Jackson and Blake Smith each had two hits and two RBI as California defeated Loyola Marymount for its eighth consecutive victory. Dylan Tonnesons and Mark Canha each drove in a run in the second as the Golden Bears (11-1-1) took an early 2-0 lead. Smith's two-run single capped a three-run third for Cal. Angelo Songco and Sean Dovel each homered for the Lions (7-8).