March 14, 2008
Rankings are from CBI Composite Poll
Around the Bases
Cal Poly posts a pair in ninth to upset No. 17 UCLA
San Diego edges Western Illinois; East Carolina rallies past Quinnipiac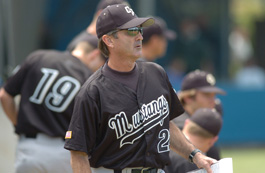 In San Luis Obispo, Calif., head coach Larry Lee (left) watched Cal Poly scored a pair in the bottom of the ninth to edge No. 17 UCLA 9-8 Thursday in front of 1,426 fans at Baggett Stadium. D.J. Gentile's RBI single tied the game and the winning run came in when the Bruins (8-5) were not able to turn a double play. Gentile had four hits and two RBI for the Mustangs (7-7). Alden Carrithers had four hits for UCLA.
San Diego 3, Western Illinois 1
In San Diego, Anthony Strazzara's two-run double in the bottom of the first game San Diego the lead for good against Western Illinois at Cunningham Stadium. The Leathernecks (1-8) scored in the top of the first on an RBI single by Drew Laidig. The Toreros (9-7) added an insurance run in the third on Josh Romanski's run-scoring single. Matt Thompson (1-1) earned the victory with two hits in 3.1 scoreless innings.
East Carolina 12, Quinnipiac 9
In Greenville, N.C., Stephen Batts belted a three-run homer to cap a five-run rally in the bottom of the eighth as East Carolina outscored Quinnipiac at Lewis Field at Clark-LeClair Stadium. The Bobcats (1-6) took a 9-7 lead in the top of the eighth on a throwing error and an RBI single by Brian Monack. Trent Whitehead's RBI single in the bottom of the eighth tied the game for the Pirates (10-4) before the belt by Batts gave ECU the lead.
Pittsburgh 14, Penn 2
In West Palm Beach, Fla., Joe Leonard's two-run homer in the third gave Pitt a 5-0 lead on its was to a victory over Penn at the Papa John's Challenge. Sean Conley's grand slam highlighted a seven-run eighth for the Panthers (4-7). Dan Williams had an RBI single for the Quakers (1-5).
Illinois-Chicago 9, Northwestern 8
In Chicago, Chris Rutta's RBI double in the bottom of the 10th game UIC the victory over Northwestern at Les Miller Field. Jason Ganek's homer for the Flames (4-6) with one out in the bottom of the ninth sent the game into extra innings. Ganek had three hits and two RBI for UIC, which launched five homers in the contest. Mike Kalina and Nate Roberts each had three hits for the Wildcats (3-4).