March 12, 2008
Rankings are from CBI Composite Poll
Around the Bases
Lavarnway goes deep as Yale stuns No. 4 South Carolina
Coppin State snaps 55-game losing streak; Coastal Carolina tops No. 3 UNC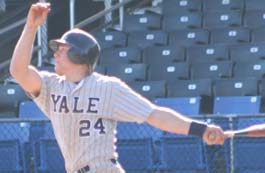 In Columbia, S.C., Ryan Lavarnway (pictured right) hit his fifth homer as Yale downed South Carolina 5-3 Tuesday. Four Bulldog (3-5) pitchers combined to hold the Gamecocks (9-3) to five hits. Stefan Schropp earned the win, allowing one run on three hits in five innings. Harley Lail homered in the second for USC. Yale scored two in the fourth and one in the fifth for a 3-1 lead. Lavarnway went deep in the top of the seventh and DeAngelo Mack answered with a homer in the bottom of the seventh to make it 4-2.
Coppin State 11-7, North Carolina Central 7-6
In Baltimore, Jerry Matos had three hits and three runs as Coppin State defeated North Carolina Central in the first game of their doubleheader at Joe Cannon Stadium, snapping a 55-game losing streak, the longest ever in Division I baseball. The Eagles (2-10) used a wild pitch to plate the game-winner in Game 2 to earn the sweep over UNCC (1-9).
Coastal Carolina 11, No. 3 North Carolina 4
In Cary, N.C., Chance Gilmore's bases-clearing double capped a six-run first as Coastal Carolina defeated North Carolina. The Chanticleers (13-1) used four walks, one hit batsman, one error and two hits in their six-run first. Adam Rice had three hits and two runs for Coastal Carolina. Kyle Seager had three hits for the Tar Heels (10-3).
No. 1 Arizona State 6, Arkansas 5
In Tempe, Ariz., Ike Davis hit two home runs to lead Arizona State past Arkansas. His first shot in the fourth gave the Sun Devils (13-0) a 2-0 lead. After the Razorbacks took a 5-2 lead in the top of the seventh, Brett Eibner's two-run single in the bottom of the seventh pulled ASU to within one. Davis' second long ball tied the game at 5-5 before Raoul Torrez's two-out RBI single gave the Sun Devils the lead for good. Davis also pitched 1.2 innings of shutout relief.
Georgia 8, No. 5 Florida State 2 (suspended)
In Tallahassee, Fla., Georgia held an 8-2 lead in the bottom of the fourth as play was suspended. The game will be resumed on Wednesday at 2 p.m. prior to the regularly-scheduled contest. Gordon Beckham hit a two-run homer in the first for the Bulldogs. Jack Rye's two-run double in the bottom of the frame tied the game at 2-2. Georgia tallied four in the top of the second on one hit to take control.
No. 6 Miami (Fla.) 10, Penn State 0
In Coral Gables, Fla., Yonder Alonso had four hits, including his fourth homer in the past four games, as Miami blanked Penn State. Jason Santana (3-0) pitched six scoreless innings for the Hurricanes (10-1) with three hits and two strikeouts. Jason Hagerty had two hits and two RBI for Miami. The Nittany Lions fell to 3-7.
Western Illinois 3, No. 7 Long Beach State 0
In Long Beach, Calif., Eric Eden (1-1) allowed three hits in six innings with three strikeouts as Western Illinois won its first game of the season, blanking Long Beach State. Drew Laidig had an RBI groundout and Cooper Stewart added a run-scoring triple as the Leathernecks (1-6) scored twice in the first. Tyler Metcalf added an RBI single in the third for a 3-0 advantage. LBSU (9-3) was the highest-ranked team to be beaten by WIU in school history.
No. 8 Ole Miss 10, Western Kentucky 3
In Oxford, Miss., Brett Basham had three hits and three RBI as Ole Miss outscored Western Kentucky. Tim Ferguson had three hits and three runs for the Rebels (11-3). Ole Miss scored six in the third to take command. Matt Rice homered for the Hilltoppers (6-5).
No. 9 Vanderbilt 5, Western Carolina 3
In Nashville, Dominic de la Osa homered in the third as Vanderbilt got by Western Carolina. After scoring single runs in the first two innings, de la Osa's blast made it 3-0 in favor of the Commodores (9-3). After WCU (4-8) scored in the fourth, Shea Robin answered with a solo blast to make it 4-1. Barrett Shaft's two-run single in the top of the seventh made it 4-3 before Andrew Giobbi's RBI single in the seventh pushed the lead to two.
Oral Roberts 7, No. 10 Baylor 6
In Tulsa, Okla., Oral Roberts scored a pair in the bottom of the eighth to pull out the victory against Baylor. The Golden Eagles (9-2) scored on a wild pitch and an error to take a 7-6 lead in the eighth. The Bears (11-2) led 5-0 in the sixth and saw ORU score two in the sixth and three in the seventh to tie it at 5-5.
No. 11 UC Irvine 11, USC 3
In Los Angeles, Tony Asaro had two doubles and drove in four as UC Irvine topped USC. Jeff Cusick had two hits and Aaron Lowenstein scored four times for the Anteaters (11-1). Asaro's two-run double sparked a three-run second for UCI.
No. 13 Kentucky 18-8, Eastern Michigan 5-6
In Lexington, Ky., Brian Spear homered and drove in four as Kentucky completed a doubleheader sweep of Eastern Michigan. Ryan Wilkes had three hits for the Wildcats, who raised their record to 15-0. Spear's RBI double in the seventh snapped a 5-5 tie and Chris Wade's two-run single gave UK insurance runs. Sawyer Carroll had three hits and drove in four in the opener for the Wildcats. He smacked a three-run homer, his sixth of the season.
No. 14 Texas 9, No. 15 Rice 1
In Houston, Michael Torres had three hits and three RBI as Texas routed Rice. The Longhorns (10-4) scored five in the fourth as Torres had a RBI single and also scored. Rick Hague had a sacrifice fly in the sixth for the Owls (8-6). Torres added a two-run homer in a three-run eighth for Texas.
No. 16 Virginia 8, Radford 2
In Charlottesville, Va., Greg Miclat had four hits as Virginia took care of Radford. Miclat had three RBI and two steals for the Cavaliers (12-2). Miclat's two-run double in the fourth gave Virginia a 5-0 lead. Nate Toth had an RBI single in the sixth for the Highlanders (7-5).
No. 17 UCLA 11, Pepperdine 3
In Los Angeles, Cody Decker had three hits, including a two-run homer, as UCLA defeated Pepperdine. Brandon Crawford added three hits for the Bruins (8-4). Alden Carrithers had a triple, a homer and two RBI for UCLA. Justin Uribe (2-0) held the Waves (10-4) to three hits in five shutout innings with three walks and two strikeouts. Charles Brewer registered five strikeouts in four relief innings to notch his first collegiate save.
No. 19 California 6, San Francisco 2
In Berkeley, Calif., Josh Satins' two-run homer in the third snapped a 2-2 tie and propelled Cal to the win over San Francisco. It was the seventh consecutive victory for the Golden Bears (10-1-1). Cal scored twice in the second on an RBI double by Blake Smith and Michael Brady's sacrifice fly. The Dons (6-8) knotted the score in the top of the third on an RBI singles by Tavo Hall and Connor Bernatz before Satins' blast put Cal on top to stay.
San Diego 6, No. 21 Cal State Fullerton 2
In Fullerton, Calif., Anthony Stazzara's three-run double in the fifth snapped a 2-2 tie as San Diego defeated Cal State Fullerton. The Toreros (8-7) scored single runs in the second and third innings before the Titans (8-5) tied it in the bottom of the third on run-scoring doubles by Chris Jones and Christian Colon. Stazzara's bases-clearing double with two outs gave USD the lead for good.
Clemson 11, UNC Greensboro 10
In Clemson, S.C., Mike Freeman had three hits, including a grand slam, and drove in five as Clemson held on to defeat UNC Greensboro. Ben Paulsen's three-run homer in the first gave the Tigers (8-4) the early lead. Freeman's grand slam in the sixth gave Clemson an 11-0 advantage. The Spartans (8-4) scored six in the seventh and four in the ninth to make it close.
Oklahoma State 19, Missouri State 10
In Stillwater, Okla., Dylan Brown hit three of the seven home runs for Oklahoma State against Missouri State. Brown tied the school's single-game record, the 10th time a Cowboy has had three home runs in one game. Tyrone Hambly had two homers and five RBI for OSU (10-3). MSU fell to 8-3.