March 9, 2008
CBI Live
Chilly day can't cool Tigers
By Patrick Hyde
CollegeBaseballInsider.com

COLUMBIA, Mo. - After opening the season with games in Florida and San Diego, a 31-degree afternoon greeted Missouri for its home opener with Indiana State.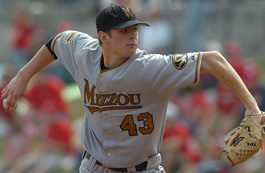 The frigid conditions, coupled with six days off between games, appeared to cause the Tigers physical and mental tightness. But 14th-ranked Missouri rode the arm of ace Aaron Crow (pictured left) in handing Indiana State a 5-1 loss at Taylor Stadium

Crow (3-0, 1.50 ERA) struggled with his command early, even though he struck out four in the first two innings. His struggles came to a head in the third when he hit two batters and threw a wild pitch on a strikeout to load the bases with one out and Indiana State's third and fourth hitters coming up.

"[The cold] wasn't that bad when you're out there," Crow said. "A couple pitches just got away from me."

Crow got left fielder Brady Shoemaker to fly out to shallow right then got right fielder Nick Ciolli to ground out to third.

"After I got out of that, I was a lot more confident," Crow said.

The Tigers' offense also struggled early against Sycamores lefty Michael Manus. Manus struck out three of the first six hitters he faced and did not allow a runner until he walked third baseman Kyle Mach to lead off the third. Mach came around to score on a single to right by Ryan Lollis.

"He is the first pitcher we've seen that is straight over the top," left fielder Aaron Senne said. "So we adjusted and laid off some of his pitches."

With Crow shackling the Sycamores (1-6), the Tigers blew the game open with a four-run fourth.

Lee Fischer (2 runs) walked to start the inning and stole second before Lollis (2 for 4, 2 RBI) brought him in on a double to right. Catcher Trevor Coleman was walked intentionally, and cleanup hitter Dan Pietroburgo singled to right, driving in Lollis. Senne doubled to left-center to plate two more.

From there, Crow took over, finishing with nine strikeouts, two hits and no runs in seven innings.

The Sycamores were able to grab a consolation run in the eighth when pinch-hitter Brian Oliver singled in Chris Schmidt.

"We pitched well and played really good defense," Missouri coach Tim Jamieson said. "We haven't been a good first- or second-inning team this year, but we did it when we had to."