Feb. 26, 2008
Rankings are from CBI Composite Poll
Around the Bases
Richardson's RBI double lifts UCF past No. 12 Missouri
No. 13 Wichita State earns second win; SDSU tops No. 18 San Diego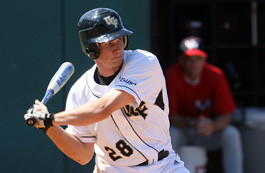 In Orlando, Fla., Ryan Richardson (pictured right) had an RBI double to cap a five-run final inning as UCF stunned No. 12 Missouri 10-9. The game was called after seven innings because of travel plans for Missouri. The Tigers (3-1) scored four in the top of the seventh to take a 9-5 lead. Colin Arnold had an RBI single to start the scoring in the bottom of the seventh for the Knights (4-0). Shane Brown delivered a two-run single before Chris Duffy's base hit tied the game at 9-9, setting the stage for Richardson's heroics. Duffy went deep twice for UCF.

No. 13 Wichita State 10, Northwestern (Iowa) 1
In Wichita, Kan., Conor Gillaspie had three hits, including two triples, as Wichita State whacked Northwestern (Iowa). Gillaspie scored twice and drove in two. Dusty Coleman homered and drove in two for the Shockers (2-0). Aaron Shafer (1-0) allowed one run in six innings with eight hits, no walks and five strikeouts. Jake Jansen and Mike Zoellner each had three hits for Northwestern (1-2).
San Diego State 7, No. 18 San Diego 1
In San Diego, Calif., Jon Berger pitched seven scoreless innings as San Diego State won at San Diego to capture three of four in the series. Berger (1-0) allowed four hits and one walk with three strikeouts. Eric Castro belted a two-run homer for the Aztecs (3-1). Josh Romanski had an RBI single for the Toreros (1-3).
Tennessee 2, Furman 1
In Knoxville, Tenn., Bryan Morgado struck out 12 in his collegiate debut as Tennessee edged Furman. The Vols (3-1) started the scoring in the bottom of the third as Andy Simunic singled, stole second and third and scored on a groundout by Kentrail Davis. Morgado (1-0) retired the first 12 batters he faced, of which 10 were strikeouts, before Ryan Lee led off the fifth with a base hit for the Paladins (0-1). He would eventually score on a sacrifice fly by Campbell Lewis to knot the score at 1-1. Yan Gomes had his own sacrifice fly in the bottom of the fifth to give UT a 2-1 lead. Morgado allowed two hits, one walk and one unearned run in eight innings.
Coastal Carolina 4, Virginia Tech 3
In Conway, S.C., Dock Doyle's RBI single in the 10th plated Scott Woodward with the game-winner as Coastal Carolina nipped Virginia Tech in the final game of the IMICHotels.com INN-vitational. Woodward was hit by a pitch to start the 10th for the Chanticleers (4-0). He moved to second on a bunt single by David Anderson, one of his four hits, and scored on Doyle's base hit. Jose Cueto homered in the sixth for the Hokies (1-3) to tie the game at 3-3.
Auburn 12, East Tennessee State 2
In Auburn, Ala., Hunter Morris smacked a two-run homer to lead Auburn past East Tennessee State and complete the four-game sweep. Tony Caldwell's three-run double capped a five-run first for the Tigers (4-0). Ben Jones also went deep for Auburn. Bart Roark had a sacrifice fly for ETSU (0-4).
Bethune-Cookman 4, Temple 3
In Daytona Beach, Fla., Jose Ortiz drove in two as Bethune-Cookman held on for the win over Temple to claim the series. Ortiz reached on an error in the bottom of the fourth to plate Jose Lozada, who led off with a triple, and the Wildcats (2-1) had the early lead. An RBI single by Ortiz highlighted a three-run eighth as B-CU built a 4-0 lead. The Owls (1-2) got a run-scoring triple by Matt Heltz, an RBI groundout by Carmen Del Mastro and a run-scoring double by Stan Orzechowski in the top of the ninth to pull to within one, but Temple left the tying run on third a groundout ended the contest.
Eastern Kentucky 8, Toledo 6
In Richmond, Ky., Tyler Rehmel's two-run double in the sixth gave the home team the lead for good as Eastern Kentucky got by Toledo in the final game of the Early Bird Tournament. Drew Hoisington's three-run homer highlighted a four-run first for the Rockets (1-1). Aaron Dudley's RBI double in the second gave UT a 5-0 advantage. The Colonels (2-0-1) scored four in the fourth, sparked by Ryan Faidley's two-run double. Rehmel's two-bagger gave EKU a 6-5 lead. The Colonels added two in the seventh before UT finished the scoring with a run in the eighth.
Maine 16-11, Delaware State 7-3
In Dover, Del., Myckie Lugbauer and Jarrett Lukas each drove in six as Maine swept a doubleheader at Delaware State. Lugbauer had three hits, three runs and three RBI in the opener and belted a three-run homer in the nightcap. Lukas went deep and drove in three in Game 1, and his two-run double in the sixth gave the Black Bears (4-0) the lead in Game 2. Jared Lineweaver had four hits on the day for the Hornets (0-4). Jarrett Bibb had three RBI in the opener and scored twice in the second game.
Texas Tech 16, Texas-San Antonio 6
In San Antonio, Texas, Doug Thennis' leadoff homer ignited a 10-run first inning as Texas Tech thumped Texas-San Antonio in the final game of the UTSA Baseball Classic. Roger Kieschnick's two-run triple capped the first for the Red Raiders (2-2). Cory Large tossed five perfect innings for Texas Tech before surrendering three runs in the sixth, as Tim Palincsar had a run-scoring two-bagger and Michael Rockett followed with a two-run double for the Roadrunners (2-2). <![if !supportLineBreakNewLine]>
<![endif]>
St. John's 3, Evansville 1
In Rock Hill, S.C., Carlos Del Rosario and Tim Morris had RBI singles in the fourth to lead St. John's past Evansville on the final day of the Johnny Gill Memorial. The Red Storm (3-0) added a run in the seventh to take a 3-0 lead. The Purple Aces (0-3) had a run-scoring base hit by Brian Robinson in the ninth, but UE left runners on first and third as the game ended. Ryan Cole (1-0) allowed two hits in seven scoreless innings to earn the victory.
Winthrop 17, Gardner-Webb 5
In Rock Hill, S.C., Eddie Rohan and John Murrian each went 4 for 4 as Winthrop pounded out 19 hits in its victory over Gardner-Webb in the final game of the Johnny Gill Memorial. Rohan homered and drove in three for the Eagles (2-1). Billy Froehlich also knocked in three for Winthrop. The Bulldogs fell to 1-2.
Washington 5, UC Riverside 2
In Riverside, Calif., Kyle Conley knocked in three at Washington (2-2) defeated UC Riverside (2-2). Drew Garcia was 3-4 for the Highlanders. Bryan Horst had two RBI for UCR.
Alcorn State 10-9, Tougaloo 0-7
In Alcorn State, Miss., Alcorn State swept a doubleheader from Tougaloo. Adrian Bowens led the Braves in the opener by going 3 for 3 with two runs and one RBI. Jesse Buchanan had an inside-the-park homer for ASU in the nightcap. Michael Spann had two homers in the second game for the Bulldogs.
UC Irvine 6, Loyola Marymount 5
In Irvine, Calif., Brock Bardeen's RBI single capped a four-run seventh as UCI nipped LMU. Ryan Fisher and Francis Larson also had run-scoring base hits in the seventh for the Anteaters (3-0). A.J. LaMonda, Ryan Wheeler and Andy Preston each had two hits for the Lions (1-2).
Saint Mary's 4, Stanford 2
In Stanford, Calif., Scott Schneider (1-0) allowed five hits and one run over six innings as Saint Mary's topped Stanford. Randy Wells had a two-run double in the top of the sixth for the Gaels (2-1) that broke a 1-1 tie. Jason Castro had two hits for the Cardinal (2-2), including a home run.
Southern Utah 6, Dixie State 1
In St. George, Utah, Mac Nelson tossed seven shutout innings as Southern Utah downed Dixie State. Nelson (1-0) allowed three hits and struck out five for the Thunderbirds (2-0). Chester Wilson homered for SUU. The Rebels (6-3) scored their run in the eighth.
Arkansas State 6, Williams Baptist 1
In Jonesboro, Ark., Andy Ferguson tossed five shutout innings as Arkansas State won its home opener over Williams Baptist. Ferguson allowed one hit and fanned five. Drew Benes had a two-run homer for the Indians (3-1). The Eagles (4-9) scored an unearned run in the seventh.
Rider 6-11, Maryland-Eastern Shore 2-6
In Princess Anne, Md., Maurice Williams had three hits and four runs in the two games as Rider swept a doubleheader at UMES (0-3). Sean Olson had a two-run single in the top of the seventh of the opener that gave the Broncs (3-0) a 5-2 lead. Olson's run-scoring base hit in the ninth of the nightcap snapped a 6-6 tie.