Feb. 24, 2008
Rankings are from CBI Composite Poll
No. 17 Long Beach State 3, No. 6 Rice 2
Long Beach State/Rice Photo Gallery
Around the Bases
Wallace leads No. 2 Arizona State past No. 7 Vanderbilt
Northern Colorado nips No. 21 Texas A&M twice; No. 1 Arizona tops Georgia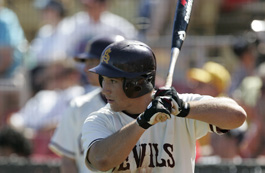 In Tempe, Ariz., Brett Wallace (pictured right) homered twice, scored four times and drove in seven, and Ike Davis went 3 for 4 with four RBI as No. 2 Arizona State pounded No. 7 Vanderbilt 18-6 at the DeMarini Invitational Saturday. After plating three runs in the third, the Sun Devils (2-0) had Wallace's grand slam highlight a six-run fourth. Jason Kipnis added a two-run shot in the frame. Davis had a two-run single in the fifth as ASU extended its lead to 12-0. Mike Leake worked six strong innings for the Sun Devils, while Brett Jacobsen was touched for six earned runs in three innings for the Commodores (1-1).

Northern Colorado 3-4, No. 21 Texas A&M 1-2
In College Station, Texas, Northern Colorado swept a doubleheader from Texas A&M. Jon Klausing went the distance in the opener for the Bears (2-1), working seven innings with five hits, one earned run, four walks and three strikeouts. T.R. Keating pitched six innings in Game 2 for Northern Colorado with four hits, two runs, one walk and five strikeouts. Sean Peery tossed three scoreless innings with four strikeouts to earn the save. Brian Ruggiano homered in the nightcap for the Aggies (1-2). Kevin Sandberg homered twice for the Bears, his second snapping a 2-2 tie in the top of the seventh.
No. 1 Arizona 7, Georgia 1
In Athens, Ga., T.J. Steele blasted a three-run homer, and Dillon Baird and C.J. Ziegler also went deep as top-ranked Arizona rebounded from an opening-night loss and beat Georgia. The Wildcats (1-1) led 2-1 entering the eighth and scored four times off Bulldogs reliever Alex McGee - Brad Glenn singled in a run before Steele homered. Gordon Beckham went 3 for 4 with a RBI for Georgia (1-1).

No. 3 North Carolina 14, Florida Atlantic 13
In Boca Raton, Fla., Chad Flack and Seth Williams each had three-run homers and drove in four, and Kyle Seager went 4 for 4 with two solo homers as North Carolina rallied to beat Florida Atlantic. Flack's three-run shot and Seager's first homer came in a five-run first, but the Owls (0-2) put four on the board on two-run singles from Tom Hatcher (4 RBI) and David Wilson. FAU added four more in the second to end Adam Warren's day early. Mike McKenna (3 for 5, 3 R, 2 RBI) had a RBI single, and Travis Ozga (3 for 4, 3 RBI) ripped a three-run homer. But Dustin Ackley (3 for 5, 2 RBI) and Williams (3 for 4, 4 RBI) helped the Tar Heels (2-0) reclaim the lead with three apiece in the fifth and sixth and two more in the eighth.
No. 4 South Carolina 22-4, East Carolina 5-13
In Columbia, S.C., Reece Havens went 5 for 6 with a homer, four runs and five RBI, and Phil Disher homered twice in going 3 for 5 with four runs and five RBI as South Carolina pummeled East Carolina in the first game of a doubleheader. But the Pirates rebounded by pounding the Gamecocks in the nightcap, with Brandon Henderson going 4 for 5 with a homer, two runs and five RBI and Jamie Ray contributing three hits and three RBI.

No. 5 Ole Miss 22, Minnesota 5
In Oxford, Miss., Cody Overbeck went 3 for 4 with two homers, four runs and five RBI, and Brett Basham added a grand slam in a 10-run fifth inning as Ole Miss throttled Minnesota. Fuller Smith came of the bench to score two runs and drive in three, and Michael Guerrero scored three times for the Rebels (2-0). Derek McCallum had two hits and two RBI for the Golden Gophers (0-2).

No. 8 San Diego 17-2, San Diego State 11-15
In San Diego, Calif., San Diego split a doubleheader with San Diego State, winning at Cunningham Stadium in the afternoon before falling at Tony Gwynn Stadium in the evening. Josh Romanski went 4 for 5 in the opener for the Toreros (1-2) with two homers and seven RBI. USD scored six in the first and four in the fifth to build a 13-4 advantage. Garrett Green went 3 for 4 in the nightcap for the Aztecs (2-1) with a double, a triple, three runs and three RBI. Troy Hanzawa also had three hits and three RBI in Game 2 for SDSU.
No. 9 Texas 17, VCU 4
In Austin, Texas, Michael Torres went 3 for 6 with two runs and five RBI, and Brandon Belt had four hits and four runs as Texas routed VCU. Travis Tucker added three RBI, and All-American Kyle Russell homered for the Longhorns (2-0). Matt Leskiw had three hits and two RBI, and Brad Bonney added two hits and two RBI for the Rams (0-2).
No. 10 Oregon State 8, Miami (Ohio) 3
In Tempe, Ariz., Jason Ogata had a career-high four hits as Oregon State topped Miami (Ohio) at the DeMarini Invitational. Ogata tripled in the first for the Beavers (1-1). Jordan Lennerton had two hits, including a double, and a sacrifice fly for OSU. Josh Hula had two hits and two RBI for the RedHawks (0-2).
No. 12 Miami (Fla.) 6, Cincinnati 4
In Coral Gables, Fla., Dave DiNatale homered in the bottom of the eighth to snap a 4-4 tie and propel Miami to the victory over Cincinnati. Jason Hagerty had a three-run homer in the sixth for the Hurricanes (2-0). Jamel Scott had two hits, two runs and one RBI for the Bearcats (0-2).
No. 13 Missouri 14, Michigan State 9
In DeLand, Fla., Jacob Priday had three hits and three RBI as Missouri outscored Michigan State at the Stetson Invitational. Greg Folgia had two hits, including a triple, and drove in three for the Tigers (2-0). Brandon Eckerle went 2 for 5 for the Spartans (1-1) with two runs and four RBI.
No. 14 Michigan 16, Villanova 6
In Port St. Lucie, Fla., Michigan scored 14 runs in its final three at-bats to outscore Villanova at Tradition Field. Adam Abraham had three hits and four RBI for the Wolverines (2-0). Ryan LaMarre added two hits and drove in four for Michigan. Derek Shunk, Dan Terpak and Kyle Carver all went deep for the Wildcats (0-2).
No. 15 UCLA 7-2, Oklahoma 5-3
In Los Angeles, Calif., Gabe Cohen's two-run blast in the bottom of the ninth gave UCLA the win over Oklahoma in the opener of their doubleheader at Jackie Robinson Stadium. Spencer Selby's sacrifice fly in the top of the 12th gave the Sooners (1-1) the split over the Bruins (1-1).
No. 16 Florida State 14-15, Duquesne 3-3
In Tallahassee, Fla., Florida State used its powerful offense to smother Duquesne twice at Dick Howser Stadium. Tony Delmonico had three hits with a homer, three runs and three RBI in the opener for the Seminoles (2-0). Jason Stidham added three hits and three runs for FSU. Aaron Janusey had two hits and a run in the opener for the Dukes (0-2). Stidham drove in four in Game 2, while Andrew Heck had two hits and two runs in the nightcap for Duquesne.
No. 22 Baylor 11, Purdue 10
In Waco, Texas, Ben Booker's fielder's choice in the 11th plated Gregg Glime with the game-winner as Baylor squeaked past Purdue at Baylor Ballpark to clinch the series. Glime drew a leadoff walk in the final frame, moved to second on a wild pitch, to third on a bunt single by Landis Ware and scored on Booker's grounder to second. Shaver Hansen's grand slam in the fourth for the Bears (2-0) gave the home team a 7-5 lead. The Boilermakers (0-2) battled back to take a 10-8 lead before Baylor scored a pair in the seventh to knot the score at 10-10.
Postponed games involving ranked teams:
Fordham @ No. 11 Wichita State