Feb. 23, 2008
Rankings are from CBI Composite Poll
San Diego State 11, No. 8 San Diego 2
Around the Bases
No. 7 Vandy knocks off No. 10 Oregon State
Georgia edges top-ranked Arizona; No. 17 Long Beach State nips No. 6 Rice
In Tempe, Ariz., Mike Minor allowed five hits and one run in six splendid innings as No. 7 Vanderbilt knocked off 10th-ranked and two-time defending champ Oregon State 8-1 at the DeMarini Invitational. Minor struck out six, surrendering his lone run in the sixth inning. Ryan Flaherty went 2 for 4 with four RBI, and Jonathan White went 2 for 3 with three runs and a RBI for the Commodores (1-0). Parker Hanks added two hits, including a solo homer. Mike Stutes allowed seven hits and four earned runs in four innings for the Beavers (0-1).
Georgia 9, No. 1 Arizona 7
In Athens, Ga., Joshua Fields homered for one of his two hits and struck out the side in the ninth to earn the save as Georgia nipped Arizona. The Bulldogs (1-0) roughed up Preston Guilmet, the ace of the Wildcats (0-1), with four runs in the first. Arizona fought back, but Georgia scored a pair in the fifth to take an 8-5 advantage. C.J. Ziegler went deep for the Wildcats in the top of the seventh, but Fields answered in the bottom of the frame for a 9-6 lead. Arizona tallied its final run in the eighth. Ryan Peisel had three hits, including a homer, for the home team. Fields hit 98 mph during his ninth-inning stint on the mound.
No. 17 Long Beach State 1, No. 6 Rice 0
In Long Beach, Calif., a pitching duel ensued for nearly 10 scoreless innings as Long Beach State blanked Rice. LBSU shortstop Danny Espinosa ripped a bases-loaded single - a shot to the left-field warning track over Aaron Luna - for the walkoff winner in the bottom of the 10th. Dirtbags ace Andrew Liebel tossed eight innings of scoreless ball, striking out a career-high 11 batters, and Rice's Ryan Berry threw seven shutout innings, striking out eight. The two right-handers matched each other inning for inning, each allowing five hits. Long Beach's relievers also played a role in the battle on the mound. David Roberts and Dustin Rasco each pitched a no-hit inning, with Rasco striking out the side before his Espinosa delivered the game-winner. Zach Barger slapped a single up the middle to start the 10th, and moved up on a sacrifice bunt and advanced to third on a wild pitch. With two outs, Owls reliever Bryan Price walked the Dirtbags' Nos. 1 and 2 hitters to load the bases. Espinosa then stepped in and slammed the first pitch deep into left for the win.
No. 2 Arizona State 7, Miami (Ohio) 0
In Tempe, Ariz., Four pitchers combined on a two-hit shutout, and Arizona State scored four times in the seventh en route to a win at the DeMarini Invitational. Petey Paramore and Matt Newman each contributed two hits and a RBI, and Brett Wallace scored twice as the Sun Devils (1-0) took advantage of four RedHawks errors. Jason Kipnis added a solo homer for ASU. Josh Satow worked 5.2 innings, allowing two hits and striking out three. Chris Niro threw well for Miami (0-1), allowing two hits, four runs (none earned) and striking out four in 5.2 innings.
No. 3 North Carolina 7, Florida Atlantic 1
In Boca Raton, Fla., Dustin Ackley and Seth Williams each went deep twice as North Carolina powered past Florida Atlantic. Ackley had four hits, three runs and two RBI for the Tar Heels (1-0). Williams added three hits and drove in four. Alex White struck out six in earning the victory. The Owls (0-1) scored their lone run in the sixth.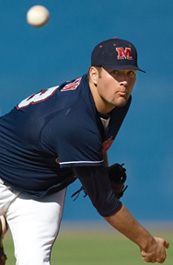 No. 5 Ole Miss 8, Minnesota 1
In Oxford, Miss., Lance Lynn (pictured right) matched his career-high with 12 strikeouts, including the first hitters of the game, as Ole Miss fanned 21 in its victory over Minnesota. Lynn allowed two hits in five scoreless innings for the Rebels (1-0). Scott Bittle struck out seven in three innings, and Justin Cryer fanned two in the ninth. Michael Guerrero homered and drove in two for Ole Miss, while Logan Power added two hits and four RBI. Mike Kvasnicka had an RBI single in the ninth for the Golden Gophers (0-1).
No. 9 Texas 6, VCU 2
In Austin, Texas, Texas broke in newly renovated Disch-Falk Field with a win over VCU as Preston Clark had two hits and four RBI. Kevin Keyes had three hits and a run in his first collegiate game, and Travis Tucker added two hits and a RBI for the Longhorns (1-0). Austin Wood tossed six strong innings with six hits, two earned runs and eight strikeouts for Texas. Nathan Furry and Joe Van Meter had two hits apiece for the Rams (0-1).
No. 11 Wichita State 4, Fordham 3
In Wichita, Kan., Dusty Coleman went 2 for 2 with two RBI, and Wichita State pitchers limited Fordham to two hits as the Shockers edged the Rams. Tyler Weber added two hits and two runs, and Andy Dirks contributed two RBI for the Shockers (1-0). Rob Musgrave pitched into the sixth, allowing two hits and three runs (one earned). Khol Nanney earned the win with 1.2 innings of hitless relief. Eric Reese had a hit, run and RBI for the Rams (0-1).

No. 12 Miami (Fla.) 3, Cincinnati 1
In Coral Gables, Fla., Eric Erickson fanned six in six innings as Miami got past Cincinnati at Mark Light Field. Mark Sobolewski went 3 for 4 with an RBI single in the first for the Hurricanes (1-0). Joe Terdoslavich also knocked in a run in the first for Miami. The Bearcats (0-1) scored in the top of the third as Cameron Satterwhite doubled and scored on an error to make it a 2-1 game. Blake Tekotte's sacrifice fly in the seventh pushed the Hurricanes to a 3-1 lead.
No. 13 Missouri 7, Connecticut 1
In DeLand, Fla., Aaron Crow struck out the first four batters he faced and finished with seven strikeouts in six innings as Missouri beat Connecticut. Crow allowed six hits and one earned run for the Tigers (1-0). Leadoff man Kurt Calvert went 3 for 4 with a double, three RBI and a run, and Aaron Senne added two RBI as Missouri built a 6-1 lead after four innings. Pat Mahoney drove in the lone run for the Huskies (0-1).
No. 14 Michigan 13, Villanova 4
In Port St. Lucie, Fla., Kevin Sislo went 2 for 3 with three RBI, and Michigan scored in six of eight innings in a win over Villanova. Ryan LaMarre went 3 for 4 with two RBI, and Zach Putnam and Nate Recknagel added two RBI apiece for the Wolverines, who broke from a 6-4 game in the bottom of the fourth. Matt McFolling had a two-run homer for the Wildcats.

No. 19 Cal State Fullerton 11, TCU 5
In Fort Worth, Texas, Erik Komatsu doubled, tripled, homered and drove in five runs as Cal State Fullerton opened with a win at TCU, snapping a seven-game road losing streak on Opening Day. Josh Fellhauer went 4 for 6 with two runs and two RBI as the Titans (1-0) built an 8-1 lead. Jeff Kaplan worked into the sixth to post the win. Clint Arnold had two hits and three runs, and Ben Carruthers added three hits and Matt Vern and Matt Carpenter two RBI apiece for the Horned Frogs (0-1).

No. 21 Texas A&M 9, Northern Colorado 5
In College Station, Texas, Jose Duran and Brian Ruggiano each had three hits and two RBI to lead Texas A&M to a win. Erik Whinery (3 for 4) and Jeff Horn (two RBI, two runs) helped Northern Colorado take a 5-2 lead in the fourth, but the Aggies responded with three runs in the fourth and four more in the sixth. Dane Carter went 3 for 4 with two runs, and Kyle Colligan had two hits and two RBI for the Aggies.
No. 22 Baylor 2, Purdue 1
In Waco, Texas, in the first match-up between the teams, backup second baseman Landis Ware ripped a two-run homer to lead past Purdue at Baylor Ballpark. After being held scoreless for seven innings, Ware slugged an inside fastball to put the Bears on the board. Ware, a freshman, was given the start after 2007 freshman All-American Raynor Campbell went down with an injury recently and went 2 for 3 and added a double. Kendall Volz earned the win striking out 10 and allowing four hits over eight scoreless innings and walking two. Matt Bischoff worked into the seventh for the Boilermakers, striking out seven.

No. 23 UC Irvine 6, Nevada 0
In Reno, Nev., Ryan Fisher smacked a pair of two-run homers in support of Scott Gorgen's six shutout innings as UC Irvine blanked Nevada at Peccole Park, giving Mike Gillespie his first win as head coach of the Anteaters (1-0). Fisher's two-run shot highlighted a three-run third for UCI. He went deep again in the top of the fourth to give the Anteaters a 5-0 advantage. Tyler Hoechlin's solo shot in the eighth capped the scoring. Gorgen allowed one hit in six innings with three strikeouts. Jason Rodriguez went 2 for 4 for the Wolf Pack.
Richmond 23, UNC Wilmington 16
In Jacksonville, Fla., Ryan Metzroth, who came in with seven career RBI in two seasons, went 5 for 5 with two homers, two walks, five runs and six RBI, and Hank Coogan had two hits, three runs, a homer and five RBI as Richmond gave coach Mark McQueen a win in his debut. Evan Stehle (five RBI) added a ninth-inning grand slam as the Spiders (1-0) scored seven times to break from a 16-16 tie. Nate Hall had two homers and six RBI, and Mark Carver went 4 for 5 with three RBI for the Seahawks.

Liberty 6, Notre Dame 2
In Clearwater, Fla., Clarence Nicely worked six solid innings, and David Giammaresi had a two-run double in a four-run fourth as Liberty knocked off Notre Dame at the Clearwater Invitational. Nicely allowed five hits and one earned run for the Flames (1-0). Sean Gaston went 2 for 4 with a RBI for the Fighting Irish (0-1).

Tennessee 9, Morehead State 4
In Knoxville, Tenn., Josh Liles had two hits and three RBI in his first collegiate game as Tennessee beat Morehead State in coach Todd Raleigh's first game as coach of the Volunteers. Davis Kentrail and Tanner Moore each added two hits and two RBI for Tennessee. J.D. Ashbrook had a two-run homer for Morehead State.
Postponed games involving ranked teams:
East Carolina at No. 4 South Carolina
Oklahoma at No. 15 UCLA
Duquesne at No. 16 Florida State
Mercer at No. 18 Clemson
Lehigh at No. 20 Virginia
Xavier vs. No. 24 Kentucky
Cleveland State at No. 25 Louisville